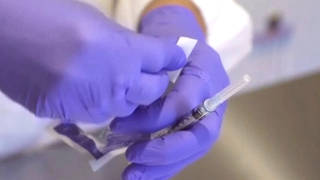 As distribution of coronavirus vaccines draws near, a recent poll suggests that 42% of Americans are reluctant to take the vaccine. In response, some, including former Maryland congressmember and presidential candidate John Delaney, are pushing to pay people to get vaccinated, a move being discouraged by many, including Dr. Monica Peek, a physician, associate professor of medicine and health disparities researcher at the University of Chicago. She says there are major concerns about how to ensure at-risk groups get vaccinated while overcoming public doubts about the safety and efficacy of the vaccines, but paying people to get vaccinated would be a mistake. "We need to have the public trust that this vaccine will be safe, and we cannot cut corners," she says.
This post was originally published on Radio Free.
Print
Share
Comment
Cite
Upload
Translate
APA
Democracy Now | radiofree.asia (2021-06-15T06:14:21+00:00) » Vaccine Ethics: Doctor Warns Against Paying People to Get COVID Vaccine as U.S. Preps Distribution. Retrieved from https://radiofree.asia/2020/12/01/vaccine-ethics-doctor-warns-against-paying-people-to-get-covid-vaccine-as-u-s-preps-distribution/.
MLA
" » Vaccine Ethics: Doctor Warns Against Paying People to Get COVID Vaccine as U.S. Preps Distribution." Democracy Now | radiofree.asia - Tuesday December 1, 2020, https://radiofree.asia/2020/12/01/vaccine-ethics-doctor-warns-against-paying-people-to-get-covid-vaccine-as-u-s-preps-distribution/
HARVARD
Democracy Now | radiofree.asia Tuesday December 1, 2020 » Vaccine Ethics: Doctor Warns Against Paying People to Get COVID Vaccine as U.S. Preps Distribution., viewed 2021-06-15T06:14:21+00:00,<https://radiofree.asia/2020/12/01/vaccine-ethics-doctor-warns-against-paying-people-to-get-covid-vaccine-as-u-s-preps-distribution/>
VANCOUVER
Democracy Now | radiofree.asia - » Vaccine Ethics: Doctor Warns Against Paying People to Get COVID Vaccine as U.S. Preps Distribution. [Internet]. [Accessed 2021-06-15T06:14:21+00:00]. Available from: https://radiofree.asia/2020/12/01/vaccine-ethics-doctor-warns-against-paying-people-to-get-covid-vaccine-as-u-s-preps-distribution/
CHICAGO
" » Vaccine Ethics: Doctor Warns Against Paying People to Get COVID Vaccine as U.S. Preps Distribution." Democracy Now | radiofree.asia - Accessed 2021-06-15T06:14:21+00:00. https://radiofree.asia/2020/12/01/vaccine-ethics-doctor-warns-against-paying-people-to-get-covid-vaccine-as-u-s-preps-distribution/
IEEE
" » Vaccine Ethics: Doctor Warns Against Paying People to Get COVID Vaccine as U.S. Preps Distribution." Democracy Now | radiofree.asia [Online]. Available: https://radiofree.asia/2020/12/01/vaccine-ethics-doctor-warns-against-paying-people-to-get-covid-vaccine-as-u-s-preps-distribution/. [Accessed: 2021-06-15T06:14:21+00:00]
rf:citation
» Vaccine Ethics: Doctor Warns Against Paying People to Get COVID Vaccine as U.S. Preps Distribution | Democracy Now | radiofree.asia | https://radiofree.asia/2020/12/01/vaccine-ethics-doctor-warns-against-paying-people-to-get-covid-vaccine-as-u-s-preps-distribution/ | 2021-06-15T06:14:21+00:00
https://github.com/addpipe/simple-recorderjs-demo