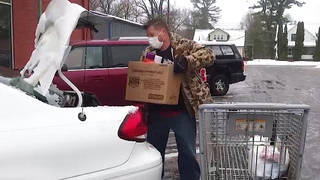 As the World Food Programme accepts the Nobel Peace Prize, we look at the growing global hunger crisis amid the pandemic, the climate crisis and war. In the United States, as many as 50 million people could experience food insecurity before the end of the year — including one in four children. "It's important to remember that hunger does not always happen because of natural disasters," says Ricardo Salvador, director of the Food and Environment Program at the Union of Concerned Scientists. "It is often the result of things that we do to each other deliberately."
This post was originally published on Radio Free.
Print
Share
Comment
Cite
Upload
Translate
Coming soon, a new easy way to cite work. We are working on implementing new features in this area, in the meantime please pardon this section not finctioning properly. We are aware of the issues and working to improve service.
https://github.com/addpipe/simple-recorderjs-demo