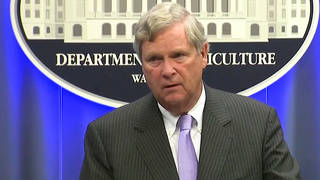 Progressives and environmental and labor activists are objecting to President-elect Joe Biden's selection of Tom Vilsack to be his agriculture secretary, reprising the role he held in the Obama administration. Those opposed to Vilsack's nomination say he has a record of supporting corporate interests over those of farmers, loosening regulations and backing genetically modified, herbicide-resistant crops. The NAACP has pointed to Vilsack's role in firing former USDA official Shirley Sherrod in 2010 as disqualifying. Biden's pick of Vilsack is a missed opportunity to reshape the U.S. Department of Agriculture, says Ricardo Salvador, director of the Food and Environment Program at the Union of Concerned Scientists. "Going back to a secretary of the past is not the way to strike in a new direction. That is status quo."
This post was originally published on Radio Free.
Print
Share
Comment
Cite
Upload
Translate
APA
Democracy Now | radiofree.asia (2021-06-20T03:34:33+00:00) » Why Biden's Pick of Tom Vilsack for Agriculture Secretary Is a Missed Opportunity for the USDA. Retrieved from https://radiofree.asia/2020/12/10/why-bidens-pick-of-tom-vilsack-for-agriculture-secretary-is-a-missed-opportunity-for-the-usda/.
MLA
" » Why Biden's Pick of Tom Vilsack for Agriculture Secretary Is a Missed Opportunity for the USDA." Democracy Now | radiofree.asia - Thursday December 10, 2020, https://radiofree.asia/2020/12/10/why-bidens-pick-of-tom-vilsack-for-agriculture-secretary-is-a-missed-opportunity-for-the-usda/
HARVARD
Democracy Now | radiofree.asia Thursday December 10, 2020 » Why Biden's Pick of Tom Vilsack for Agriculture Secretary Is a Missed Opportunity for the USDA., viewed 2021-06-20T03:34:33+00:00,<https://radiofree.asia/2020/12/10/why-bidens-pick-of-tom-vilsack-for-agriculture-secretary-is-a-missed-opportunity-for-the-usda/>
VANCOUVER
Democracy Now | radiofree.asia - » Why Biden's Pick of Tom Vilsack for Agriculture Secretary Is a Missed Opportunity for the USDA. [Internet]. [Accessed 2021-06-20T03:34:33+00:00]. Available from: https://radiofree.asia/2020/12/10/why-bidens-pick-of-tom-vilsack-for-agriculture-secretary-is-a-missed-opportunity-for-the-usda/
CHICAGO
" » Why Biden's Pick of Tom Vilsack for Agriculture Secretary Is a Missed Opportunity for the USDA." Democracy Now | radiofree.asia - Accessed 2021-06-20T03:34:33+00:00. https://radiofree.asia/2020/12/10/why-bidens-pick-of-tom-vilsack-for-agriculture-secretary-is-a-missed-opportunity-for-the-usda/
IEEE
" » Why Biden's Pick of Tom Vilsack for Agriculture Secretary Is a Missed Opportunity for the USDA." Democracy Now | radiofree.asia [Online]. Available: https://radiofree.asia/2020/12/10/why-bidens-pick-of-tom-vilsack-for-agriculture-secretary-is-a-missed-opportunity-for-the-usda/. [Accessed: 2021-06-20T03:34:33+00:00]
rf:citation
» Why Biden's Pick of Tom Vilsack for Agriculture Secretary Is a Missed Opportunity for the USDA | Democracy Now | radiofree.asia | https://radiofree.asia/2020/12/10/why-bidens-pick-of-tom-vilsack-for-agriculture-secretary-is-a-missed-opportunity-for-the-usda/ | 2021-06-20T03:34:33+00:00
https://github.com/addpipe/simple-recorderjs-demo