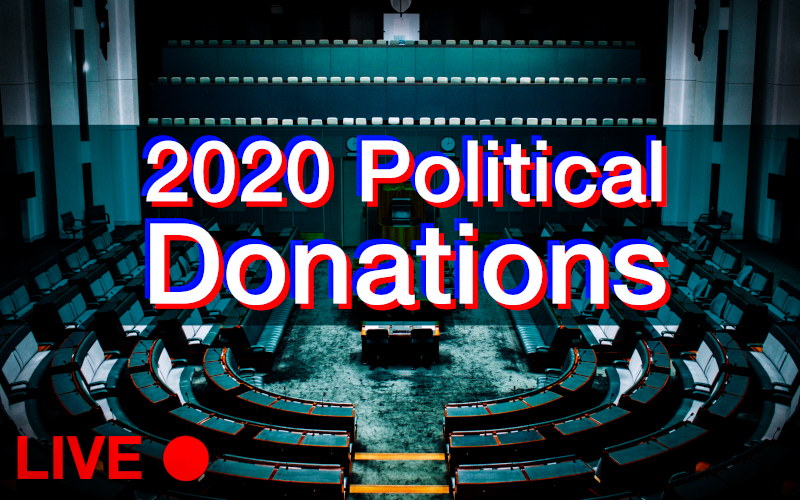 Total political donations for 2020 are $168m, way down on the $434m in the previous year 2018/19. The Liberal Party edged out Labor as the top recipient. Total donations for Liberal Party are $57m, Labor $55m, Nationals $12.4m, Clive Palmer $10.2m, Greens $7.2m and One Nation $5.8m.
This post was originally published on Michael West.
Print
Share
Comment
Cite
Upload
Translate
Updates
APA
Michael West | radiofree.asia (2022-06-28T21:12:37+00:00) » Donations Day: live coverage of political bribes. Retrieved from https://radiofree.asia/2021/01/31/donations-day-live-coverage-of-political-bribes/.
MLA
" » Donations Day: live coverage of political bribes." Michael West | radiofree.asia - Sunday January 31, 2021, https://radiofree.asia/2021/01/31/donations-day-live-coverage-of-political-bribes/
HARVARD
Michael West | radiofree.asia Sunday January 31, 2021 » Donations Day: live coverage of political bribes., viewed 2022-06-28T21:12:37+00:00,<https://radiofree.asia/2021/01/31/donations-day-live-coverage-of-political-bribes/>
VANCOUVER
Michael West | radiofree.asia - » Donations Day: live coverage of political bribes. [Internet]. [Accessed 2022-06-28T21:12:37+00:00]. Available from: https://radiofree.asia/2021/01/31/donations-day-live-coverage-of-political-bribes/
CHICAGO
" » Donations Day: live coverage of political bribes." Michael West | radiofree.asia - Accessed 2022-06-28T21:12:37+00:00. https://radiofree.asia/2021/01/31/donations-day-live-coverage-of-political-bribes/
IEEE
" » Donations Day: live coverage of political bribes." Michael West | radiofree.asia [Online]. Available: https://radiofree.asia/2021/01/31/donations-day-live-coverage-of-political-bribes/. [Accessed: 2022-06-28T21:12:37+00:00]
rf:citation
» Donations Day: live coverage of political bribes | Michael West | radiofree.asia | https://radiofree.asia/2021/01/31/donations-day-live-coverage-of-political-bribes/ | 2022-06-28T21:12:37+00:00