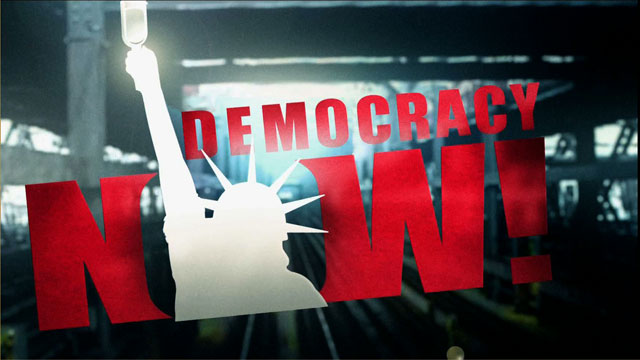 In Rochester, New York, one police officer has been suspended and two officers placed on administrative leave pending an internal investigation, after body camera video showed them handcuffing and pepper-spraying a 9-year-old girl. The video, taken last Friday, shows the officers pressing the girl face-down into the snow as she cries out for her father. One officer says "You're acting like a child," to which she responds, "I am a child." When the girl refuses to sit in the back of a patrol car, an officer pepper-sprays her in the face.
Rochester police union president Mike Mezzo on Sunday defended the officer's actions.
Mike Mezzo: "He made a decision there that he thought was the best action to take. It resulted in no injury to her."
Rochester Mayor Lovely Warren said Monday that state law and a police union contract prevented her from taking stronger action against the officers. She said the incident had left her community rattled.
Lovely Warren: "I have a 10-year-old daughter so she's a child. She's a baby. I can tell you that this video is not anything that you want to see."
Last year, Mayor Warren fired Rochester's police chief La'Ron Singletary after internal documents showed he sought to cover up the police killing of Daniel Prude. Prude was a 41-year-old Black man who died from asphyxiation in March after Rochester officers handcuffed him, put a hood over his head and pushed his face into the freezing cold ground for two minutes while kneeling on his back.
This post was originally published on Radio Free.
Print
Share
Comment
Cite
Upload
Translate
Updates
APA
Democracy Now | radiofree.asia (2022-06-26T20:13:29+00:00) » Headlines for February 2, 2021. Retrieved from https://radiofree.asia/2021/02/02/headlines-for-february-2-2021/.
MLA
" » Headlines for February 2, 2021." Democracy Now | radiofree.asia - Tuesday February 2, 2021, https://radiofree.asia/2021/02/02/headlines-for-february-2-2021/
HARVARD
Democracy Now | radiofree.asia Tuesday February 2, 2021 » Headlines for February 2, 2021., viewed 2022-06-26T20:13:29+00:00,<https://radiofree.asia/2021/02/02/headlines-for-february-2-2021/>
VANCOUVER
Democracy Now | radiofree.asia - » Headlines for February 2, 2021. [Internet]. [Accessed 2022-06-26T20:13:29+00:00]. Available from: https://radiofree.asia/2021/02/02/headlines-for-february-2-2021/
CHICAGO
" » Headlines for February 2, 2021." Democracy Now | radiofree.asia - Accessed 2022-06-26T20:13:29+00:00. https://radiofree.asia/2021/02/02/headlines-for-february-2-2021/
IEEE
" » Headlines for February 2, 2021." Democracy Now | radiofree.asia [Online]. Available: https://radiofree.asia/2021/02/02/headlines-for-february-2-2021/. [Accessed: 2022-06-26T20:13:29+00:00]
rf:citation
» Headlines for February 2, 2021 | Democracy Now | radiofree.asia | https://radiofree.asia/2021/02/02/headlines-for-february-2-2021/ | 2022-06-26T20:13:29+00:00