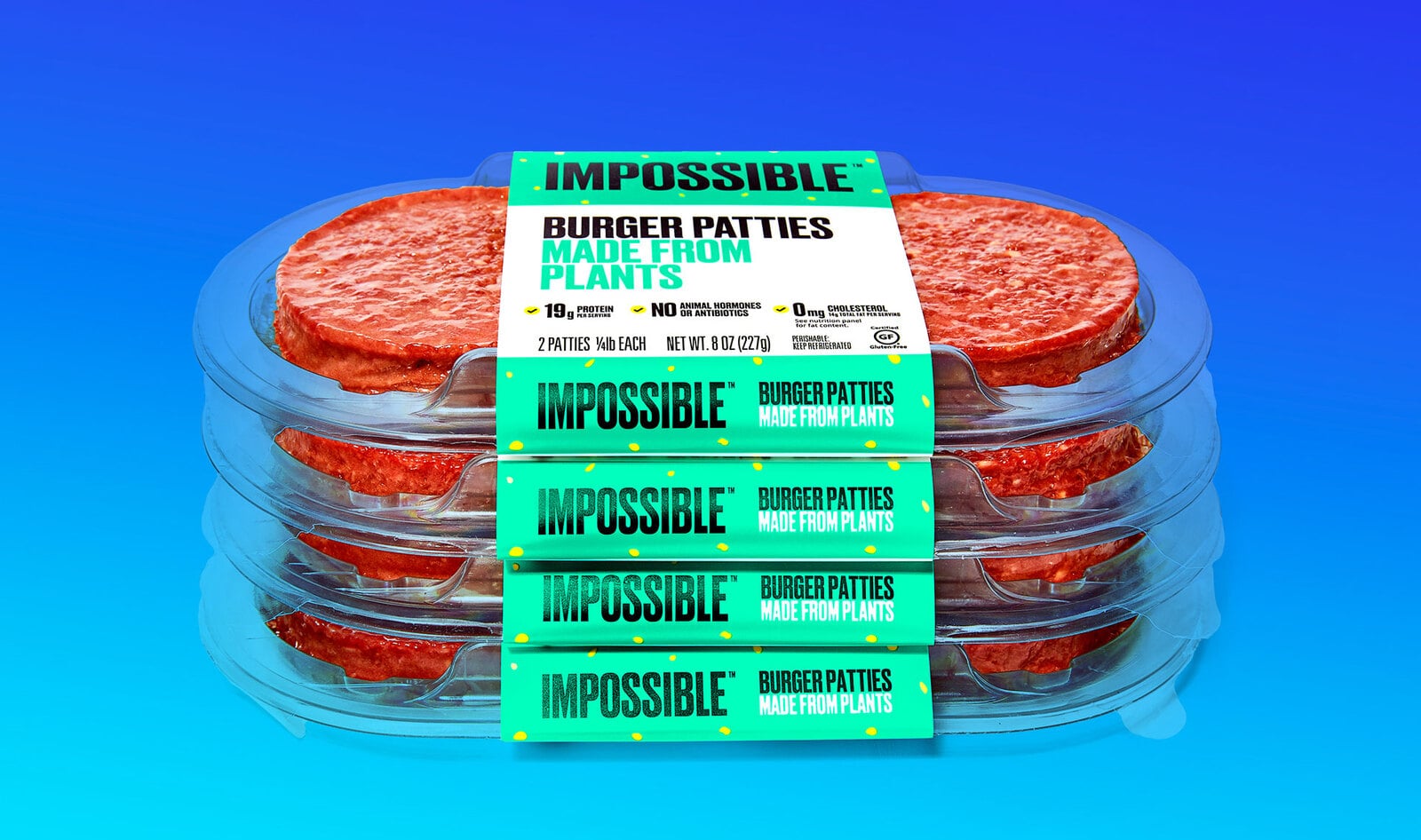 Today, Impossible Foods announced that its retail prices will decrease by 20 percent over the next month. The new suggested retail price (SRP) of a two-pack of Impossible Burgers will be $5.49 (down from $6.99) and the SRP for a 12-ounce package of Impossible meat will drop to $6.99 (down from $8.99). While the prices at individual stores may differ, the move is meant to make plant-based meat more competitive with beef—the average cost of which is approximately $4.80 per pound.
"While we would not and could not require grocery stores to cut prices, grocery store customers and distributors are in fact consistently passing along our economies of scale to their own customers," Impossible Foods President Dennis Woodside said. "Impossible products are becoming increasingly affordable, and this in turn is accelerating our rapid retail growth. It's a virtuous cycle for our customers, consumers, and the planet."
Making plant-based meat cheaper than beef
Impossible Foods is on a mission to replace all food animals with plant-based alternatives by 2035. In order to achieve that mission, the company aims to make its plant-based products widely accessible and affordable. This week's price cut is not the first for Impossible Foods. In March, the company reduced its wholesale prices by 15 percent, allowing its food service partners—which include Burger King, White Castle, and Starbucks—to pass on the savings to consumers. It slashed its wholesale prices by a further 15 percent in January.
On the accessibility front, in 2020 alone, Impossible Foods has increased the availability of its Impossible Burger to more than 17,000 retail store locations, including Trader Joe's, Target, and Walmart. To further approach price parity with beef, Impossible Foods has also increased its production by sixfold since 2019 at its Oakland, CA facility and multiple plants owned by co-manufacturing partners.
"Our plan is to reverse global warming and halt our planet's extinction crisis by making the food system sustainable. To do that, we need to make meat better in every way that matters to consumers—taste, nutrition, convenience, and affordability," Impossible Foods CEO and Founder Patrick O. Brown, MD said. "With economies of scale, we intend to keep lowering prices until we undercut those of ground beef from cows. Today's price cut is merely our latest—not our last."
This post was originally published on VegNews.com.
Print
Share
Comment
Cite
Upload
Translate
Updates
APA
VegNews.com | radiofree.asia (2022-06-25T07:18:54+00:00) » Impossible Burgers Are About To Get Much Cheaper in Stores. Retrieved from https://radiofree.asia/2021/02/02/impossible-burgers-are-about-to-get-much-cheaper-in-stores/.
MLA
" » Impossible Burgers Are About To Get Much Cheaper in Stores." VegNews.com | radiofree.asia - Tuesday February 2, 2021, https://radiofree.asia/2021/02/02/impossible-burgers-are-about-to-get-much-cheaper-in-stores/
HARVARD
VegNews.com | radiofree.asia Tuesday February 2, 2021 » Impossible Burgers Are About To Get Much Cheaper in Stores., viewed 2022-06-25T07:18:54+00:00,<https://radiofree.asia/2021/02/02/impossible-burgers-are-about-to-get-much-cheaper-in-stores/>
VANCOUVER
VegNews.com | radiofree.asia - » Impossible Burgers Are About To Get Much Cheaper in Stores. [Internet]. [Accessed 2022-06-25T07:18:54+00:00]. Available from: https://radiofree.asia/2021/02/02/impossible-burgers-are-about-to-get-much-cheaper-in-stores/
CHICAGO
" » Impossible Burgers Are About To Get Much Cheaper in Stores." VegNews.com | radiofree.asia - Accessed 2022-06-25T07:18:54+00:00. https://radiofree.asia/2021/02/02/impossible-burgers-are-about-to-get-much-cheaper-in-stores/
IEEE
" » Impossible Burgers Are About To Get Much Cheaper in Stores." VegNews.com | radiofree.asia [Online]. Available: https://radiofree.asia/2021/02/02/impossible-burgers-are-about-to-get-much-cheaper-in-stores/. [Accessed: 2022-06-25T07:18:54+00:00]
rf:citation
» Impossible Burgers Are About To Get Much Cheaper in Stores | VegNews.com | radiofree.asia | https://radiofree.asia/2021/02/02/impossible-burgers-are-about-to-get-much-cheaper-in-stores/ | 2022-06-25T07:18:54+00:00