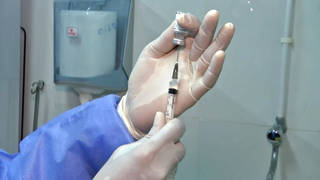 Russia has been one of the countries hardest hit by the pandemic, recording about 73,000 deaths and over 3.8 million infections over the past year. Meanwhile, there is widespread skepticism over the domestically developed Sputnik V vaccine, with many Russians reluctant to get the shot. Now a peer-reviewed study published in the respected Lancet medical journal has confirmed the vaccine's 91.6% efficacy, as developers of the shot have long maintained. "That's good news for the developers of the vaccine in Russia. That's good news for Russia writ large, which certainly has plenty of geopolitical ambitions surrounding the vaccine," says Joshua Yaffa, correspondent for The New Yorker in Moscow. "And it's frankly good news for the world."
This post was originally published on Democracy Now!.
Print
Share
Comment
Cite
Upload
Translate
Updates
APA
Democracy Now! | radiofree.asia (2022-06-26T20:21:06+00:00) » Russia's Sputnik V Is Found to Be 91.6% Effective, Providing Boost for Global Vaccination Effort. Retrieved from https://radiofree.asia/2021/02/02/russias-sputnik-v-is-found-to-be-91-6-effective-providing-boost-for-global-vaccination-effort-3/.
MLA
" » Russia's Sputnik V Is Found to Be 91.6% Effective, Providing Boost for Global Vaccination Effort." Democracy Now! | radiofree.asia - Tuesday February 2, 2021, https://radiofree.asia/2021/02/02/russias-sputnik-v-is-found-to-be-91-6-effective-providing-boost-for-global-vaccination-effort-3/
HARVARD
Democracy Now! | radiofree.asia Tuesday February 2, 2021 » Russia's Sputnik V Is Found to Be 91.6% Effective, Providing Boost for Global Vaccination Effort., viewed 2022-06-26T20:21:06+00:00,<https://radiofree.asia/2021/02/02/russias-sputnik-v-is-found-to-be-91-6-effective-providing-boost-for-global-vaccination-effort-3/>
VANCOUVER
Democracy Now! | radiofree.asia - » Russia's Sputnik V Is Found to Be 91.6% Effective, Providing Boost for Global Vaccination Effort. [Internet]. [Accessed 2022-06-26T20:21:06+00:00]. Available from: https://radiofree.asia/2021/02/02/russias-sputnik-v-is-found-to-be-91-6-effective-providing-boost-for-global-vaccination-effort-3/
CHICAGO
" » Russia's Sputnik V Is Found to Be 91.6% Effective, Providing Boost for Global Vaccination Effort." Democracy Now! | radiofree.asia - Accessed 2022-06-26T20:21:06+00:00. https://radiofree.asia/2021/02/02/russias-sputnik-v-is-found-to-be-91-6-effective-providing-boost-for-global-vaccination-effort-3/
IEEE
" » Russia's Sputnik V Is Found to Be 91.6% Effective, Providing Boost for Global Vaccination Effort." Democracy Now! | radiofree.asia [Online]. Available: https://radiofree.asia/2021/02/02/russias-sputnik-v-is-found-to-be-91-6-effective-providing-boost-for-global-vaccination-effort-3/. [Accessed: 2022-06-26T20:21:06+00:00]
rf:citation
» Russia's Sputnik V Is Found to Be 91.6% Effective, Providing Boost for Global Vaccination Effort | Democracy Now! | radiofree.asia | https://radiofree.asia/2021/02/02/russias-sputnik-v-is-found-to-be-91-6-effective-providing-boost-for-global-vaccination-effort-3/ | 2022-06-26T20:21:06+00:00