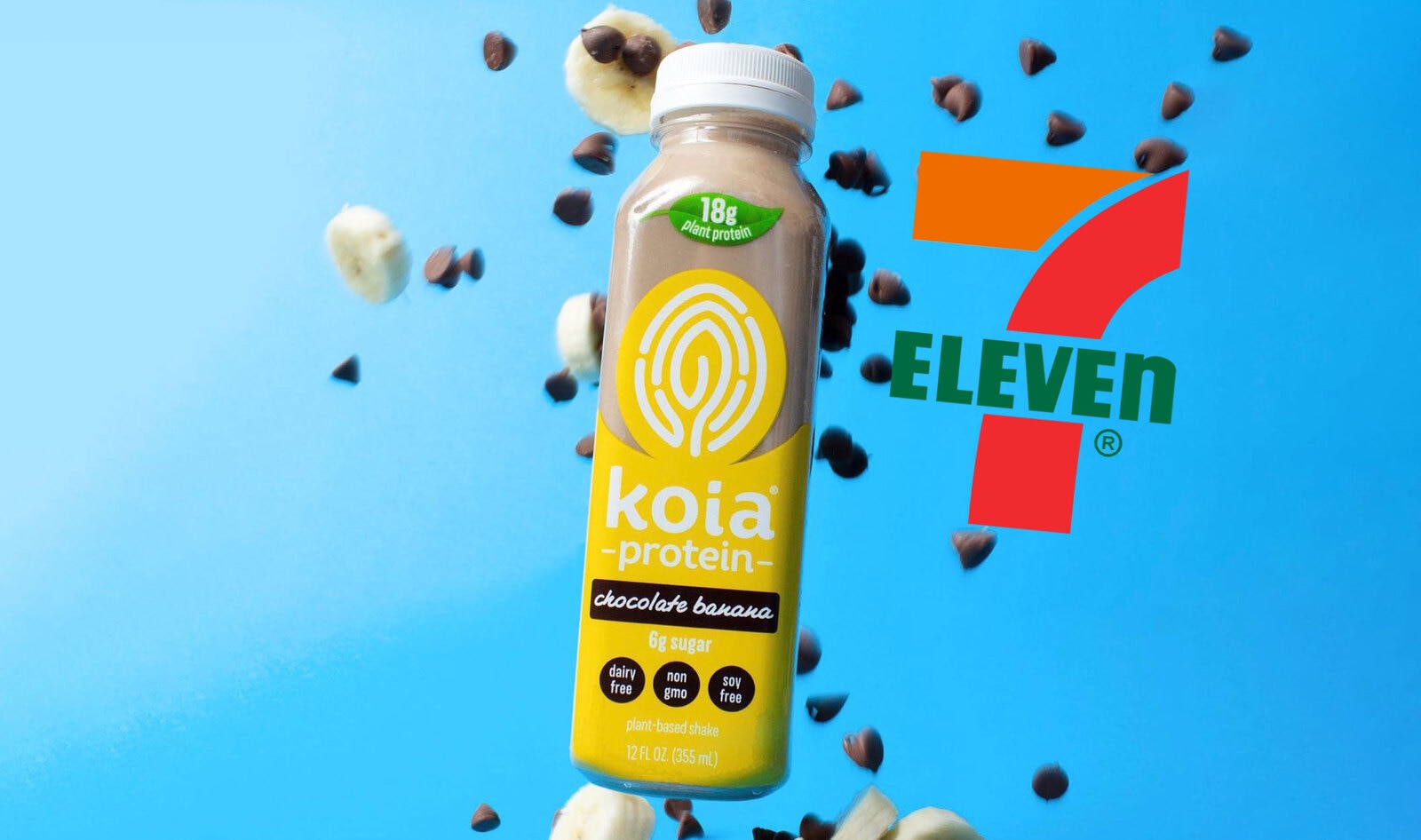 This week, beverage brand Koia expanded the distribution of its vegan protein smoothies to 7-Eleven locations nationwide. The brand participated in 7-Eleven's "Sips & Snacks That Love You Back" program, which tested 25 new foods and beverages—which also included Outstanding Foods vegan pork rinds—at 200 locations in Southern California last summer. 7-Eleven expanded its partnership with Koia after the brand performed as the best-seller during the test. "Over 60 percent of our consumers come to 7-Eleven for beverages, making it critical for our portfolio to match their needs of living healthy lives," Daniela Field, Senior Category Manager of 7-Eleven, Inc., said. "Koia is how we stay competitive and evolve as a broader better-for-you destination, and we wholeheartedly believe it can stand alongside any of the big brands we carry."
7-Eleven will offer Koia's protein line (which features 18 grams of protein per serving) in Vanilla, Cacao, and Chocolate Banana flavors for $3.99 per 12-ounce bottle.
Vegan keto smoothies
In 2019, Koia debuted a line of vegan keto smoothies in Cake Batter, Chocolate Brownie, and Caramel Crème flavors exclusively at Whole Foods Market. The Koia Keto line features low-sugar, high-fat smoothies crafted especially for those following a ketogenic ("keto") diet who aim to consume 80 percent of their daily calories from fat, which they typically source from meat and dairy products—an issue that Koia tackles with its vegan smoothies. Now, the brand offers expanded flavors in its keto and protein lines, along with a fruit-based smoothie line, at a growing number of retailers nationwide.
"We've seen our customer base grow and evolve as more people struggle to find affordable, plant-based foods that taste great," Koia Co-Founder and CEO Chris Hunter said. "7-Eleven has a unique ability to evolve its shelves quickly and deliver low sugar products that people care about today. We're excited to expand with them as they work to make healthy choices more accessible to everyone."
This post was originally published on VegNews.com.
Print
Share
Comment
Cite
Upload
Translate
Updates
APA
VegNews.com | radiofree.asia (2022-08-14T06:43:51+00:00) » 7,000 7-Eleven Stores Now Sell Vegan Protein Smoothies. Retrieved from https://radiofree.asia/2021/02/22/7000-7-eleven-stores-now-sell-vegan-protein-smoothies/.
MLA
" » 7,000 7-Eleven Stores Now Sell Vegan Protein Smoothies." VegNews.com | radiofree.asia - Monday February 22, 2021, https://radiofree.asia/2021/02/22/7000-7-eleven-stores-now-sell-vegan-protein-smoothies/
HARVARD
VegNews.com | radiofree.asia Monday February 22, 2021 » 7,000 7-Eleven Stores Now Sell Vegan Protein Smoothies., viewed 2022-08-14T06:43:51+00:00,<https://radiofree.asia/2021/02/22/7000-7-eleven-stores-now-sell-vegan-protein-smoothies/>
VANCOUVER
VegNews.com | radiofree.asia - » 7,000 7-Eleven Stores Now Sell Vegan Protein Smoothies. [Internet]. [Accessed 2022-08-14T06:43:51+00:00]. Available from: https://radiofree.asia/2021/02/22/7000-7-eleven-stores-now-sell-vegan-protein-smoothies/
CHICAGO
" » 7,000 7-Eleven Stores Now Sell Vegan Protein Smoothies." VegNews.com | radiofree.asia - Accessed 2022-08-14T06:43:51+00:00. https://radiofree.asia/2021/02/22/7000-7-eleven-stores-now-sell-vegan-protein-smoothies/
IEEE
" » 7,000 7-Eleven Stores Now Sell Vegan Protein Smoothies." VegNews.com | radiofree.asia [Online]. Available: https://radiofree.asia/2021/02/22/7000-7-eleven-stores-now-sell-vegan-protein-smoothies/. [Accessed: 2022-08-14T06:43:51+00:00]
rf:citation
» 7,000 7-Eleven Stores Now Sell Vegan Protein Smoothies | VegNews.com | radiofree.asia | https://radiofree.asia/2021/02/22/7000-7-eleven-stores-now-sell-vegan-protein-smoothies/ | 2022-08-14T06:43:51+00:00