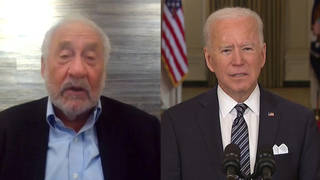 President Biden has signed the $1.9 trillion COVID-19 relief package, which Democrats are hailing as the largest anti-poverty bill in a generation. It includes stimulus checks to most adults, expanded unemployment benefits and an overhaul of the child tax credit. One study projects the law will lift almost 14 million Americans out of poverty, including 5.7 million children. "This is transformational," says economist Joseph Stiglitz. "It says, 'We are actually going to live up — try to live up — to our aspirations.'"
This post was originally published on Democracy Now!.
Print
Share
Comment
Cite
Upload
Translate
Updates
APA
Democracy Now! | radiofree.asia (2023-12-09T17:38:56+00:00) » The End of Trickle-Down Economics? Joe Stiglitz on the "Transformational" $1.9T American Rescue Plan. Retrieved from https://radiofree.asia/2021/03/12/the-end-of-trickle-down-economics-joe-stiglitz-on-the-transformational-1-9t-american-rescue-plan/.
MLA
" » The End of Trickle-Down Economics? Joe Stiglitz on the "Transformational" $1.9T American Rescue Plan." Democracy Now! | radiofree.asia - Friday March 12, 2021, https://radiofree.asia/2021/03/12/the-end-of-trickle-down-economics-joe-stiglitz-on-the-transformational-1-9t-american-rescue-plan/
HARVARD
Democracy Now! | radiofree.asia Friday March 12, 2021 » The End of Trickle-Down Economics? Joe Stiglitz on the "Transformational" $1.9T American Rescue Plan., viewed 2023-12-09T17:38:56+00:00,<https://radiofree.asia/2021/03/12/the-end-of-trickle-down-economics-joe-stiglitz-on-the-transformational-1-9t-american-rescue-plan/>
VANCOUVER
Democracy Now! | radiofree.asia - » The End of Trickle-Down Economics? Joe Stiglitz on the "Transformational" $1.9T American Rescue Plan. [Internet]. [Accessed 2023-12-09T17:38:56+00:00]. Available from: https://radiofree.asia/2021/03/12/the-end-of-trickle-down-economics-joe-stiglitz-on-the-transformational-1-9t-american-rescue-plan/
CHICAGO
" » The End of Trickle-Down Economics? Joe Stiglitz on the "Transformational" $1.9T American Rescue Plan." Democracy Now! | radiofree.asia - Accessed 2023-12-09T17:38:56+00:00. https://radiofree.asia/2021/03/12/the-end-of-trickle-down-economics-joe-stiglitz-on-the-transformational-1-9t-american-rescue-plan/
IEEE
" » The End of Trickle-Down Economics? Joe Stiglitz on the "Transformational" $1.9T American Rescue Plan." Democracy Now! | radiofree.asia [Online]. Available: https://radiofree.asia/2021/03/12/the-end-of-trickle-down-economics-joe-stiglitz-on-the-transformational-1-9t-american-rescue-plan/. [Accessed: 2023-12-09T17:38:56+00:00]
rf:citation
» The End of Trickle-Down Economics? Joe Stiglitz on the "Transformational" $1.9T American Rescue Plan | Democracy Now! | radiofree.asia | https://radiofree.asia/2021/03/12/the-end-of-trickle-down-economics-joe-stiglitz-on-the-transformational-1-9t-american-rescue-plan/ | 2023-12-09T17:38:56+00:00