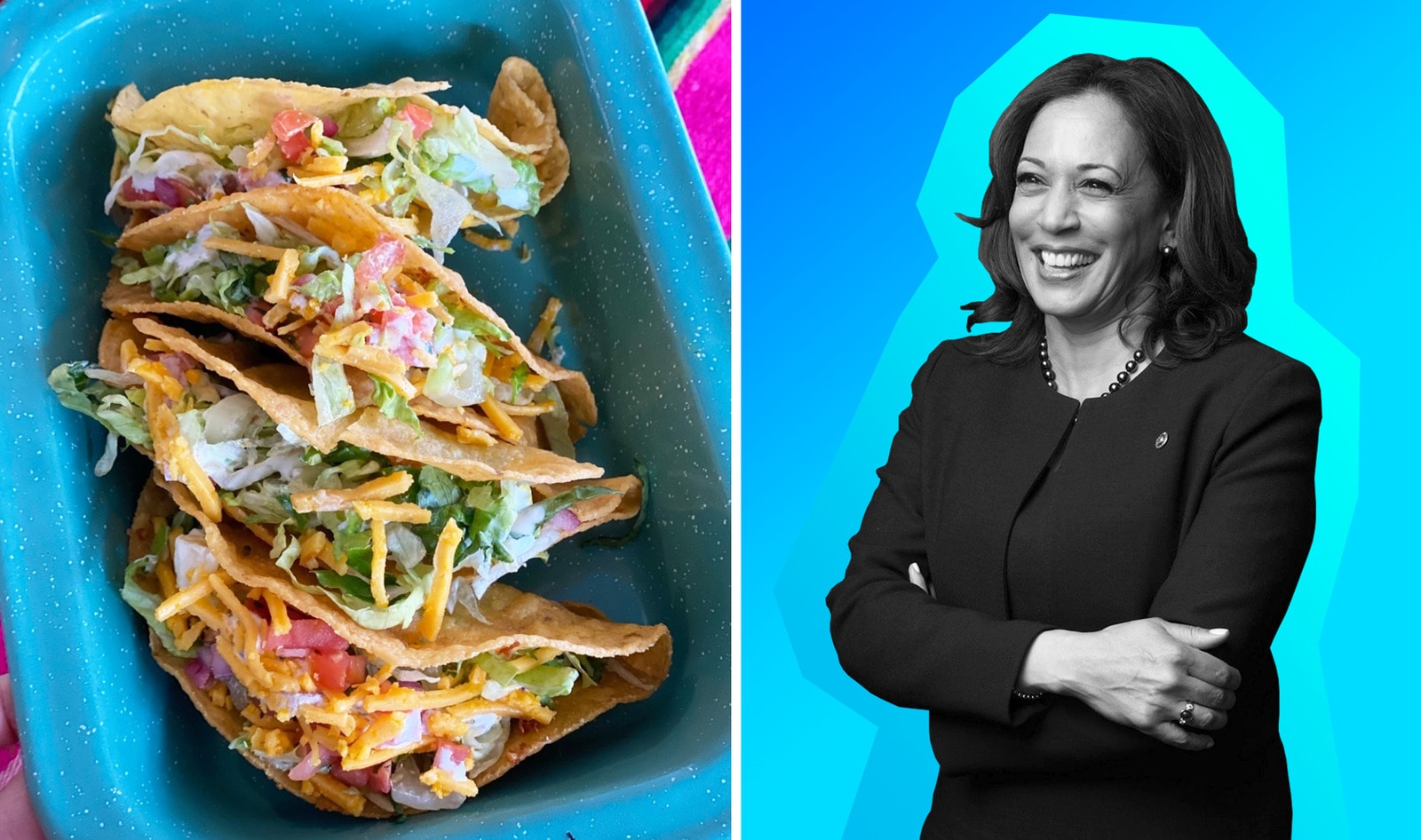 This week, Vice President Kamala Harris visited Las Vegas vegan restaurant Tacotarian to sample its vegan tacos. Harris came to the restaurant following a recommendation from her friend and colleague Senator Cory Booker (D-NJ) who is a fan of Tacotarian and has been vegan since 2014. The Vice President ordered two mushroom asada tacos, two super tacos, two carne asada tacos, and grabbed some housemade hot sauces to complete the meal. A first in a series of stops across the country, Harris was in Las Vegas to promote the $1.9 trillion American Rescue Plan.
Tacotarian Co-Founder Kristen Corral revealed that Harris was gracious and spent time chatting with the staff and customers. "We can't believe it. We were just here like any day and someone came up and said they were with the White House and that the Vice President was on her way here to pick up some food to go. It all happened so fast," Corral told VegNews. "But we were just so honored to have the Vice President of the United States standing in our restaurant ordering our food. We're still in shock."
View this post on Instagram
Tacotarian—which is on a mission to "turn Vegas vegan one taco at a time"—opened its first location in Las Vegas in 2019 and its second location in 2020. The shop is known for its innovative approach to Mexican cuisine. For World Vegan Month (November) in 2019, Tacotarian created "the largest taco in the universe" which featured a hard-shell taco that measured seven inches long by seven inches wide, and came stuffed with French fries, beans, a vegan protein of choice, pico de gallo, guacamole, vegan cheddar cheese, and crema.
Is Kamala Harris vegan?
During her visit to Tacotarian, Harris told Corral that she was reducing the amount of animal products in her diet. "When she came in we were able to chat for a quick few minutes and we asked her about dabbling in veganism and she said she was doing vegan before 6pm and she heard about our restaurant from her good friend Senator Cory Booker," Corral said.
During her presidential run, Harris revealed her stance on encouraging Americans to reduce their consumption of meat. At a CNN town hall in 2019, Harris responded to a question about whether she would support a change in the dietary guidelines to reduce the consumption of red meat. "I love cheeseburgers from time to time, I just do. But [we must also consider] what we do in terms of creating incentives that we will eat in a healthy way, that we will encourage moderation, and that we will be educated about the effect of our eating habits on our environment," Harris said. "We have to do a much better job with that and the government has to do a much better job with that."
In December 2020, JIVINITI Women's Coalition—a diverse group of organizations composed mostly of women of color—challenged Harris to go vegan for the month of January. While Harris did not formally respond to the challenge, her visit to Tacotarian might be a sign that the Vice President received the message to make a dietary shift.
This post was originally published on VegNews.com.
Print
Share
Comment
Cite
Upload
Translate
Updates
APA
VegNews.com | radiofree.asia (2023-11-30T13:35:26+00:00) » VP Kamala Harris Is Now Vegan Before 6pm, Makes Official Stop at Vegan Taco Shop. Retrieved from https://radiofree.asia/2021/03/16/vp-kamala-harris-is-now-vegan-before-6pm-makes-official-stop-at-vegan-taco-shop/.
MLA
" » VP Kamala Harris Is Now Vegan Before 6pm, Makes Official Stop at Vegan Taco Shop." VegNews.com | radiofree.asia - Tuesday March 16, 2021, https://radiofree.asia/2021/03/16/vp-kamala-harris-is-now-vegan-before-6pm-makes-official-stop-at-vegan-taco-shop/
HARVARD
VegNews.com | radiofree.asia Tuesday March 16, 2021 » VP Kamala Harris Is Now Vegan Before 6pm, Makes Official Stop at Vegan Taco Shop., viewed 2023-11-30T13:35:26+00:00,<https://radiofree.asia/2021/03/16/vp-kamala-harris-is-now-vegan-before-6pm-makes-official-stop-at-vegan-taco-shop/>
VANCOUVER
VegNews.com | radiofree.asia - » VP Kamala Harris Is Now Vegan Before 6pm, Makes Official Stop at Vegan Taco Shop. [Internet]. [Accessed 2023-11-30T13:35:26+00:00]. Available from: https://radiofree.asia/2021/03/16/vp-kamala-harris-is-now-vegan-before-6pm-makes-official-stop-at-vegan-taco-shop/
CHICAGO
" » VP Kamala Harris Is Now Vegan Before 6pm, Makes Official Stop at Vegan Taco Shop." VegNews.com | radiofree.asia - Accessed 2023-11-30T13:35:26+00:00. https://radiofree.asia/2021/03/16/vp-kamala-harris-is-now-vegan-before-6pm-makes-official-stop-at-vegan-taco-shop/
IEEE
" » VP Kamala Harris Is Now Vegan Before 6pm, Makes Official Stop at Vegan Taco Shop." VegNews.com | radiofree.asia [Online]. Available: https://radiofree.asia/2021/03/16/vp-kamala-harris-is-now-vegan-before-6pm-makes-official-stop-at-vegan-taco-shop/. [Accessed: 2023-11-30T13:35:26+00:00]
rf:citation
» VP Kamala Harris Is Now Vegan Before 6pm, Makes Official Stop at Vegan Taco Shop | VegNews.com | radiofree.asia | https://radiofree.asia/2021/03/16/vp-kamala-harris-is-now-vegan-before-6pm-makes-official-stop-at-vegan-taco-shop/ | 2023-11-30T13:35:26+00:00