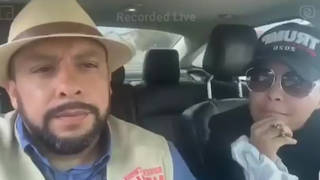 As thousands of asylum seekers continue to wait in Mexico for a chance to enter the United States, investigative journalist Jean Guerrero says Mexican social media influencers connected to right-wing U.S. media outlets and political figures are whipping up "hysteria" about the southern border. She says they are spreading false conspiracy theories about an orchestrated "invasion" and "child trafficking" funded by Democrats that are endangering vulnerable people. "It's been incredibly damaging," says Guerrero.
This post was originally published on Democracy Now!.
Print
Share
Comment
Cite
Upload
Translate
Coming soon, a new easy way to cite work. We are working on implementing new features in this area, in the meantime please pardon this section not finctioning properly. We are aware of the issues and working to improve service.
https://github.com/addpipe/simple-recorderjs-demo