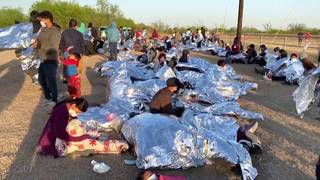 There are now over 15,000 unaccompanied migrant children in U.S. custody as the number of people seeking asylum at the southern border shows no sign of slowing down. The Biden administration has sharpened its rhetoric in recent weeks, insisting that the "border is closed" and pushing Mexico and Guatemala to stem the flow of migrants. The Biden administration has also maintained one of the most controversial Trump policies, which allows the U.S. to deny almost all asylum seekers on public health grounds. "What is happening at the southern border is shameful," says Luz Lopez, a lawyer with the Southern Poverty Law Center focused on immigration. "We as a country should remain vigilant and hold any administration accountable, regardless of political party, with respect to our treatment of children seeking refuge, who are fleeing countries that are in turmoil, largely because of our geopolitical policies over the past several decades."
This post was originally published on Democracy Now!.
Print
Share
Comment
Cite
Upload
Translate
Coming soon, a new easy way to cite work. We are working on implementing new features in this area, in the meantime please pardon this section not finctioning properly. We are aware of the issues and working to improve service.
https://github.com/addpipe/simple-recorderjs-demo