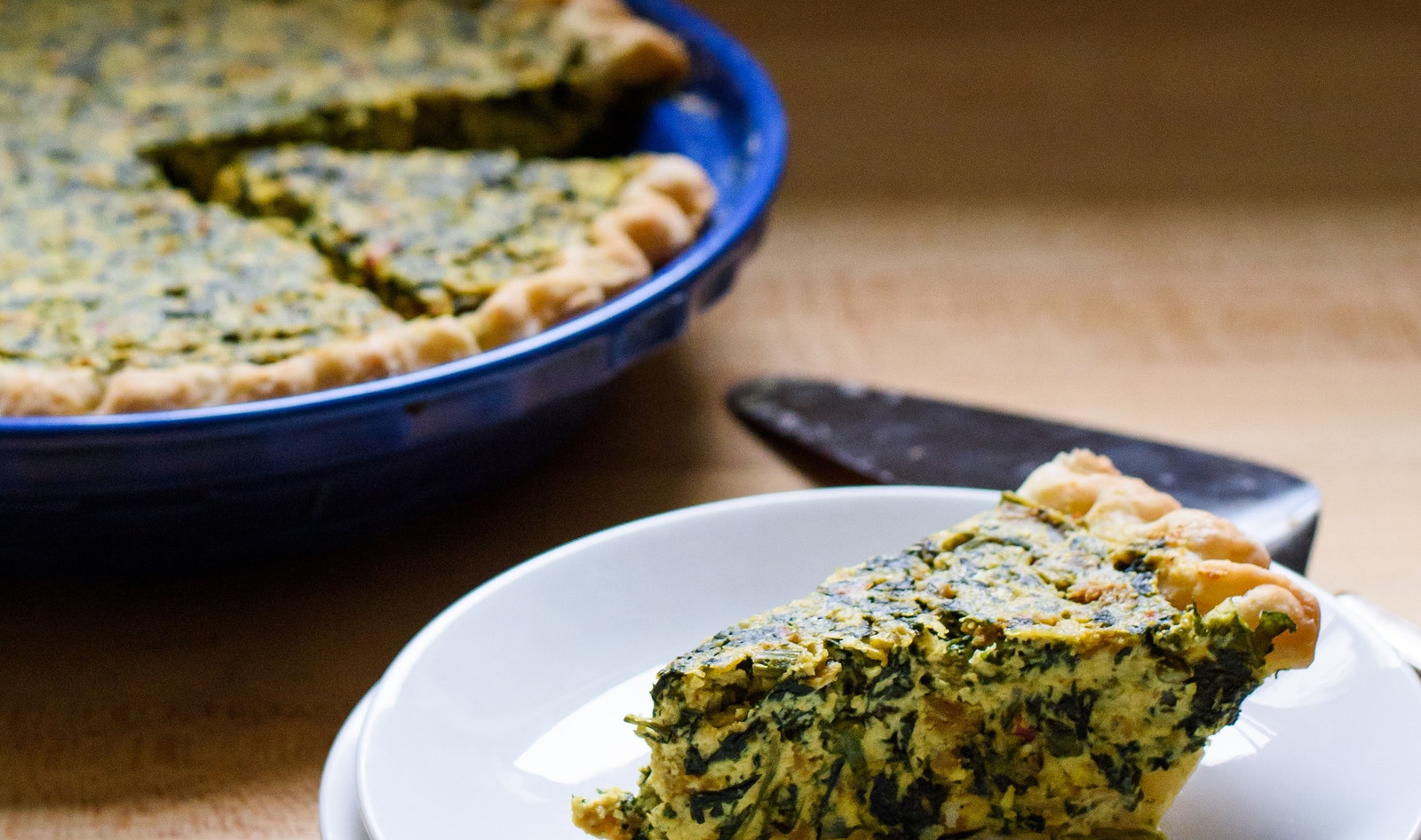 Bake up this veganized version of a traditional breakfast pie from the Compassionate Cuisine cookbook for a lovely plant-based brunch. Or to convert this to an easy vegan frittata, skip the pie crust and spread the filling into an oiled 8-inch square baking dish and bake.
Photo credit: Linda Soper-Kolton and Sara Boan
This post was originally published on VegNews.com.
Print
Share
Comment
Cite
Upload
Translate
Updates
APA
Linda Soper-Kolton and Sara Boan | radiofree.asia (2022-09-26T16:11:09+00:00) » Spinach, Asparagus & Sausage Quiche. Retrieved from https://radiofree.asia/2021/09/19/spinach-asparagus-sausage-quiche/.
MLA
" » Spinach, Asparagus & Sausage Quiche." Linda Soper-Kolton and Sara Boan | radiofree.asia - Sunday September 19, 2021, https://radiofree.asia/2021/09/19/spinach-asparagus-sausage-quiche/
HARVARD
Linda Soper-Kolton and Sara Boan | radiofree.asia Sunday September 19, 2021 » Spinach, Asparagus & Sausage Quiche., viewed 2022-09-26T16:11:09+00:00,<https://radiofree.asia/2021/09/19/spinach-asparagus-sausage-quiche/>
VANCOUVER
Linda Soper-Kolton and Sara Boan | radiofree.asia - » Spinach, Asparagus & Sausage Quiche. [Internet]. [Accessed 2022-09-26T16:11:09+00:00]. Available from: https://radiofree.asia/2021/09/19/spinach-asparagus-sausage-quiche/
CHICAGO
" » Spinach, Asparagus & Sausage Quiche." Linda Soper-Kolton and Sara Boan | radiofree.asia - Accessed 2022-09-26T16:11:09+00:00. https://radiofree.asia/2021/09/19/spinach-asparagus-sausage-quiche/
IEEE
" » Spinach, Asparagus & Sausage Quiche." Linda Soper-Kolton and Sara Boan | radiofree.asia [Online]. Available: https://radiofree.asia/2021/09/19/spinach-asparagus-sausage-quiche/. [Accessed: 2022-09-26T16:11:09+00:00]
rf:citation
» Spinach, Asparagus & Sausage Quiche | Linda Soper-Kolton and Sara Boan | radiofree.asia | https://radiofree.asia/2021/09/19/spinach-asparagus-sausage-quiche/ | 2022-09-26T16:11:09+00:00