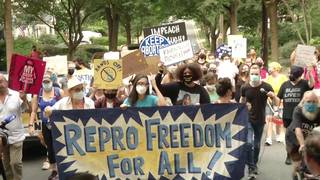 We look at the attack on reproductive rights in the United States, as the Department of Justice sues Texas over a new law that bans abortions after six weeks into a pregnancy. The law makes no exception for rape or incest and allows anyone in Texas to sue patients, medical workers or even a patient's family or friends who "aid and abet" an abortion. "What we see time and time again is when we ban abortion, it doesn't stop the need for people to access abortion," says Dr. Bhavik Kumar, a staff physician at Planned Parenthood Center for Choice in Houston, Texas.
This post was originally published on Democracy Now!.
Print
Share
Comment
Cite
Upload
Translate
Updates
APA
Democracy Now! | radiofree.asia (2022-08-14T07:17:12+00:00) » Texas Abortion Doctor: "When We Ban abortion, It Doesn't Stop the Need for People to Access Abortion". Retrieved from https://radiofree.asia/2021/09/20/texas-abortion-doctor-when-we-ban-abortion-it-doesnt-stop-the-need-for-people-to-access-abortion-2/.
MLA
" » Texas Abortion Doctor: "When We Ban abortion, It Doesn't Stop the Need for People to Access Abortion"." Democracy Now! | radiofree.asia - Monday September 20, 2021, https://radiofree.asia/2021/09/20/texas-abortion-doctor-when-we-ban-abortion-it-doesnt-stop-the-need-for-people-to-access-abortion-2/
HARVARD
Democracy Now! | radiofree.asia Monday September 20, 2021 » Texas Abortion Doctor: "When We Ban abortion, It Doesn't Stop the Need for People to Access Abortion"., viewed 2022-08-14T07:17:12+00:00,<https://radiofree.asia/2021/09/20/texas-abortion-doctor-when-we-ban-abortion-it-doesnt-stop-the-need-for-people-to-access-abortion-2/>
VANCOUVER
Democracy Now! | radiofree.asia - » Texas Abortion Doctor: "When We Ban abortion, It Doesn't Stop the Need for People to Access Abortion". [Internet]. [Accessed 2022-08-14T07:17:12+00:00]. Available from: https://radiofree.asia/2021/09/20/texas-abortion-doctor-when-we-ban-abortion-it-doesnt-stop-the-need-for-people-to-access-abortion-2/
CHICAGO
" » Texas Abortion Doctor: "When We Ban abortion, It Doesn't Stop the Need for People to Access Abortion"." Democracy Now! | radiofree.asia - Accessed 2022-08-14T07:17:12+00:00. https://radiofree.asia/2021/09/20/texas-abortion-doctor-when-we-ban-abortion-it-doesnt-stop-the-need-for-people-to-access-abortion-2/
IEEE
" » Texas Abortion Doctor: "When We Ban abortion, It Doesn't Stop the Need for People to Access Abortion"." Democracy Now! | radiofree.asia [Online]. Available: https://radiofree.asia/2021/09/20/texas-abortion-doctor-when-we-ban-abortion-it-doesnt-stop-the-need-for-people-to-access-abortion-2/. [Accessed: 2022-08-14T07:17:12+00:00]
rf:citation
» Texas Abortion Doctor: "When We Ban abortion, It Doesn't Stop the Need for People to Access Abortion" | Democracy Now! | radiofree.asia | https://radiofree.asia/2021/09/20/texas-abortion-doctor-when-we-ban-abortion-it-doesnt-stop-the-need-for-people-to-access-abortion-2/ | 2022-08-14T07:17:12+00:00