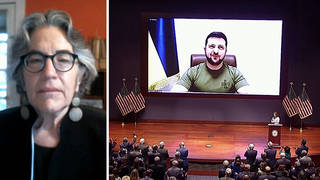 President Biden announced $800 million in new military aid for Ukraine on Wednesday, just days after Congress cleared a $1.5 trillion spending bill that included nearly $14 billion for Ukrainian humanitarian aid and security assistance. Experts warn that sending more lethal weapons could escalate war and result in more losses for Ukraine. "The cost on civilian lives is horrific," says Phyllis Bennis, a fellow at the Institute for Policy Studies, who says increasing military aid in Ukraine could thwart peace talks between Russia and Ukraine — which appeared to be making progress in the past few days. Her latest piece is headlined "The Best Way to Help Ukraine Is Diplomacy, Not War."

This content originally appeared on Democracy Now! and was authored by Democracy Now!.

This post was originally published on Radio Free.
Print
Share
Comment
Cite
Upload
Translate
Updates
APA
Democracy Now! | radiofree.asia (2023-03-22T19:47:40+00:00) » Phyllis Bennis: The Best Way to Help Ukraine Is Diplomacy, Not War & Increased Militarization. Retrieved from https://radiofree.asia/2022/03/17/phyllis-bennis-the-best-way-to-help-ukraine-is-diplomacy-not-war-increased-militarization-4/.
MLA
" » Phyllis Bennis: The Best Way to Help Ukraine Is Diplomacy, Not War & Increased Militarization." Democracy Now! | radiofree.asia - Thursday March 17, 2022, https://radiofree.asia/2022/03/17/phyllis-bennis-the-best-way-to-help-ukraine-is-diplomacy-not-war-increased-militarization-4/
HARVARD
Democracy Now! | radiofree.asia Thursday March 17, 2022 » Phyllis Bennis: The Best Way to Help Ukraine Is Diplomacy, Not War & Increased Militarization., viewed 2023-03-22T19:47:40+00:00,<https://radiofree.asia/2022/03/17/phyllis-bennis-the-best-way-to-help-ukraine-is-diplomacy-not-war-increased-militarization-4/>
VANCOUVER
Democracy Now! | radiofree.asia - » Phyllis Bennis: The Best Way to Help Ukraine Is Diplomacy, Not War & Increased Militarization. [Internet]. [Accessed 2023-03-22T19:47:40+00:00]. Available from: https://radiofree.asia/2022/03/17/phyllis-bennis-the-best-way-to-help-ukraine-is-diplomacy-not-war-increased-militarization-4/
CHICAGO
" » Phyllis Bennis: The Best Way to Help Ukraine Is Diplomacy, Not War & Increased Militarization." Democracy Now! | radiofree.asia - Accessed 2023-03-22T19:47:40+00:00. https://radiofree.asia/2022/03/17/phyllis-bennis-the-best-way-to-help-ukraine-is-diplomacy-not-war-increased-militarization-4/
IEEE
" » Phyllis Bennis: The Best Way to Help Ukraine Is Diplomacy, Not War & Increased Militarization." Democracy Now! | radiofree.asia [Online]. Available: https://radiofree.asia/2022/03/17/phyllis-bennis-the-best-way-to-help-ukraine-is-diplomacy-not-war-increased-militarization-4/. [Accessed: 2023-03-22T19:47:40+00:00]
rf:citation
» Phyllis Bennis: The Best Way to Help Ukraine Is Diplomacy, Not War & Increased Militarization | Democracy Now! | radiofree.asia | https://radiofree.asia/2022/03/17/phyllis-bennis-the-best-way-to-help-ukraine-is-diplomacy-not-war-increased-militarization-4/ | 2023-03-22T19:47:40+00:00