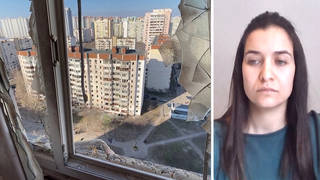 As the war in Ukraine enters its fourth week, Ukrainian officials say Russian forces have increasingly attacked civilian areas to pound Ukrainian cities into submission, a strategy Russia has employed to devastating effect in Syria, where the Russian Air Force has bombed many cities to rubble in an effort to support the government of Bashar al-Assad since entering the war in 2015. However, the international response to suffering in Ukraine signals a "very clear difference" than in Syria, says Waad Al-Kateab, the award-winning filmmaker whose 2019 Oscar-nominated documentary "For Sama" shows how she and her family lived through five years of fighting in Aleppo. "We really see that what's happening today in Ukraine might and should be a whole reframing for all the world" to take a stance against Russia's wars around the world and not just in Ukraine, says Al-Kateab. She is also the founder of the #StopBombingHospitals campaign, which led a protest outside the Russian Embassy in London.

This content originally appeared on Democracy Now! and was authored by Democracy Now!.

This post was originally published on Radio Free.
Print
Share
Comment
Cite
Upload
Translate
Updates
APA
Democracy Now! | radiofree.asia (2023-03-22T19:09:12+00:00) » Syrian Activist Condemns Russia for Targeting Civilians & Hospitals from Aleppo to Mariupol. Retrieved from https://radiofree.asia/2022/03/17/syrian-activist-condemns-russia-for-targeting-civilians-hospitals-from-aleppo-to-mariupol-4/.
MLA
" » Syrian Activist Condemns Russia for Targeting Civilians & Hospitals from Aleppo to Mariupol." Democracy Now! | radiofree.asia - Thursday March 17, 2022, https://radiofree.asia/2022/03/17/syrian-activist-condemns-russia-for-targeting-civilians-hospitals-from-aleppo-to-mariupol-4/
HARVARD
Democracy Now! | radiofree.asia Thursday March 17, 2022 » Syrian Activist Condemns Russia for Targeting Civilians & Hospitals from Aleppo to Mariupol., viewed 2023-03-22T19:09:12+00:00,<https://radiofree.asia/2022/03/17/syrian-activist-condemns-russia-for-targeting-civilians-hospitals-from-aleppo-to-mariupol-4/>
VANCOUVER
Democracy Now! | radiofree.asia - » Syrian Activist Condemns Russia for Targeting Civilians & Hospitals from Aleppo to Mariupol. [Internet]. [Accessed 2023-03-22T19:09:12+00:00]. Available from: https://radiofree.asia/2022/03/17/syrian-activist-condemns-russia-for-targeting-civilians-hospitals-from-aleppo-to-mariupol-4/
CHICAGO
" » Syrian Activist Condemns Russia for Targeting Civilians & Hospitals from Aleppo to Mariupol." Democracy Now! | radiofree.asia - Accessed 2023-03-22T19:09:12+00:00. https://radiofree.asia/2022/03/17/syrian-activist-condemns-russia-for-targeting-civilians-hospitals-from-aleppo-to-mariupol-4/
IEEE
" » Syrian Activist Condemns Russia for Targeting Civilians & Hospitals from Aleppo to Mariupol." Democracy Now! | radiofree.asia [Online]. Available: https://radiofree.asia/2022/03/17/syrian-activist-condemns-russia-for-targeting-civilians-hospitals-from-aleppo-to-mariupol-4/. [Accessed: 2023-03-22T19:09:12+00:00]
rf:citation
» Syrian Activist Condemns Russia for Targeting Civilians & Hospitals from Aleppo to Mariupol | Democracy Now! | radiofree.asia | https://radiofree.asia/2022/03/17/syrian-activist-condemns-russia-for-targeting-civilians-hospitals-from-aleppo-to-mariupol-4/ | 2023-03-22T19:09:12+00:00