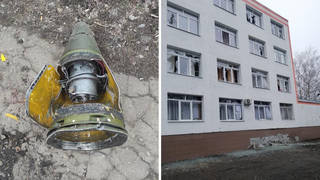 President Biden called Russian President Vladimir Putin a war criminal for the first time Wednesday for atrocities in Ukraine, as the House Foreign Affairs Committee held a hearing on whether Russian forces have been using cluster munitions in populated areas in Ukraine. Cluster bombs explode in midair and spew hundreds of smaller "bomblets." The U.N. High Commissioner for Human Rights said the use of cluster munitions in Ukraine may amount to war crimes. We speak to Stephen Goose, director of Human Rights Watch's Arms Division, about the use of cluster bombs in the war in Ukraine and how Russia, Ukraine and the United States are not signatories to the international treaty banning cluster bombs. "It's willing to criticize other peoples' use but insists on the right to use them itself," Goose says of the U.S.
This content originally appeared on Democracy Now! and was authored by Democracy Now!.
Print
Share
Comment
Cite
Upload
Translate
Updates
APA
Democracy Now! | radiofree.asia (2023-03-22T20:31:35+00:00) » U.S. Accuses Russia of Using Cluster Bombs in Ukraine as Both Refuse to Endorse International Ban. Retrieved from https://radiofree.asia/2022/03/17/u-s-accuses-russia-of-using-cluster-bombs-in-ukraine-as-both-refuse-to-endorse-international-ban-4/.
MLA
" » U.S. Accuses Russia of Using Cluster Bombs in Ukraine as Both Refuse to Endorse International Ban." Democracy Now! | radiofree.asia - Thursday March 17, 2022, https://radiofree.asia/2022/03/17/u-s-accuses-russia-of-using-cluster-bombs-in-ukraine-as-both-refuse-to-endorse-international-ban-4/
HARVARD
Democracy Now! | radiofree.asia Thursday March 17, 2022 » U.S. Accuses Russia of Using Cluster Bombs in Ukraine as Both Refuse to Endorse International Ban., viewed 2023-03-22T20:31:35+00:00,<https://radiofree.asia/2022/03/17/u-s-accuses-russia-of-using-cluster-bombs-in-ukraine-as-both-refuse-to-endorse-international-ban-4/>
VANCOUVER
Democracy Now! | radiofree.asia - » U.S. Accuses Russia of Using Cluster Bombs in Ukraine as Both Refuse to Endorse International Ban. [Internet]. [Accessed 2023-03-22T20:31:35+00:00]. Available from: https://radiofree.asia/2022/03/17/u-s-accuses-russia-of-using-cluster-bombs-in-ukraine-as-both-refuse-to-endorse-international-ban-4/
CHICAGO
" » U.S. Accuses Russia of Using Cluster Bombs in Ukraine as Both Refuse to Endorse International Ban." Democracy Now! | radiofree.asia - Accessed 2023-03-22T20:31:35+00:00. https://radiofree.asia/2022/03/17/u-s-accuses-russia-of-using-cluster-bombs-in-ukraine-as-both-refuse-to-endorse-international-ban-4/
IEEE
" » U.S. Accuses Russia of Using Cluster Bombs in Ukraine as Both Refuse to Endorse International Ban." Democracy Now! | radiofree.asia [Online]. Available: https://radiofree.asia/2022/03/17/u-s-accuses-russia-of-using-cluster-bombs-in-ukraine-as-both-refuse-to-endorse-international-ban-4/. [Accessed: 2023-03-22T20:31:35+00:00]
rf:citation
» U.S. Accuses Russia of Using Cluster Bombs in Ukraine as Both Refuse to Endorse International Ban | Democracy Now! | radiofree.asia | https://radiofree.asia/2022/03/17/u-s-accuses-russia-of-using-cluster-bombs-in-ukraine-as-both-refuse-to-endorse-international-ban-4/ | 2023-03-22T20:31:35+00:00