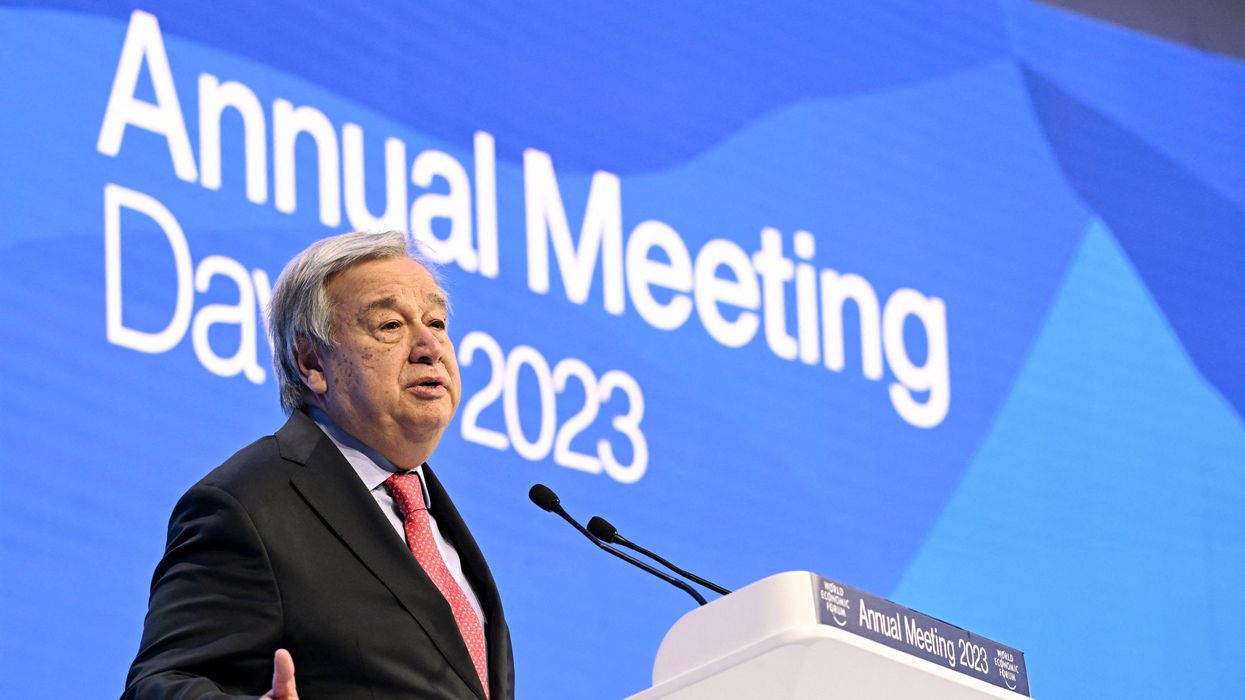 United Nations Secretary-General António Guterres delivered a scathing address to corporate and political elites in Davos on Wednesday, ripping fossil fuel giants and governments for expanding oil and gas extraction in the face of increasingly devastating climate chaos across the globe.
"The science has been clear for decades," Guterres said at the World Economic Forum, an event attended by the top executives of major oil and gas firms including Chevron and BP. "I am not talking only about U.N. scientists. I am talking even about fossil fuel scientists."
Guterres was referencing a peer-reviewed study published last week showing that ExxonMobil—one of the world's largest oil companies—accurately predicted planetary warming in its internal models as early as the 1970s, even as the company's executives publicly denied the reality of climate change.
"Just like the tobacco industry, they rode roughshod over their own science," Guterres said Wednesday. "Some in Big Oil peddled the big lie. And like the tobacco industry, those responsible must be held to account. Today, fossil fuel producers and their enablers are still racing to expand production, knowing full well that this business model is inconsistent with human survival."
"This insanity belongs in science fiction, yet we know the ecosystem meltdown is cold, hard scientific fact," the U.N. chief continued. "We must act together to close the emissions gap. To phase out coal and supercharge the renewable revolution. To end the addiction to fossil fuels. And to stop our self-defeating war on nature."
"We are flirting with climate disaster. Every week brings a new climate horror story. Greenhouse gas emissions are at record levels and growing."
Guterres' address came shortly after the International Energy Agency said oil demand is likely to rise to a record 101.7 million barrels a day this year due to a number of catalysts, including a "faster-than-anticipated reopening of China" and a "somewhat improved economic outlook."
Hundreds of fossil fuel giants around the world, meanwhile, are "taking active steps to bring 230 billion barrels of oil equivalent of untapped resources into production before 2030," according to one recent analysis, imperiling hopes of slashing carbon emissions and curbing the runaway warming that is fueling increasingly catastrophic extreme weather events. Last year was one of the hottest years on record—and the hottest year on record for the world's oceans—as greenhouse gas levels continued to surge.
The oil and gas industry's climate-wrecking expansion plans are made possible by generous funding from large financial institutions such as Citigroup, JPMorgan Chase, and Bank of America, which have pumped billions into fossil fuel projects over the past two years even as they advertise their ostensibly climate-friendly net-zero pledges.
"More and more businesses are making net-zero commitments," Guterres said in his speech Wednesday. "But benchmarks and criteria are often dubious or murky. This misleads consumers, investors, and regulators with false narratives. It feeds a culture of climate misinformation and confusion. And it leaves the door wide open to greenwashing."
"The transition to net zero must be grounded in real emissions cuts—and not rely on carbon credits and shadow markets."
Later this year, Guterres is set to convene what he described as a "no-nonsense" Climate Ambition Summit in an attempt to jumpstart global climate action following two failed U.N.-hosted conferences—and ahead of COP28, which will be overseen by the head of the United Arab Emirates' state-run oil company.
"We are flirting with climate disaster," Guterres said Wednesday. "Every week brings a new climate horror story. Greenhouse gas emissions are at record levels and growing. The commitment to limit global temperature rise to 1.5 degrees is nearly going up in smoke. Without further action, we are headed to a 2.8-degree increase and the consequences, as we all know, would be devastating. Several parts of our planet will be uninhabitable."
"And for many," he added, "this is a death sentence."
Print
Share
Comment
Cite
Upload
Translate
Updates
APA
Jake Johnson | radiofree.asia (2023-03-27T05:07:09+00:00) » 'This Insanity Belongs in Science Fiction': At Davos, UN Chief Rips Fossil Fuel Expansion. Retrieved from https://radiofree.asia/2023/01/18/this-insanity-belongs-in-science-fiction-at-davos-un-chief-rips-fossil-fuel-expansion/.
MLA
" » 'This Insanity Belongs in Science Fiction': At Davos, UN Chief Rips Fossil Fuel Expansion." Jake Johnson | radiofree.asia - Wednesday January 18, 2023, https://radiofree.asia/2023/01/18/this-insanity-belongs-in-science-fiction-at-davos-un-chief-rips-fossil-fuel-expansion/
HARVARD
Jake Johnson | radiofree.asia Wednesday January 18, 2023 » 'This Insanity Belongs in Science Fiction': At Davos, UN Chief Rips Fossil Fuel Expansion., viewed 2023-03-27T05:07:09+00:00,<https://radiofree.asia/2023/01/18/this-insanity-belongs-in-science-fiction-at-davos-un-chief-rips-fossil-fuel-expansion/>
VANCOUVER
Jake Johnson | radiofree.asia - » 'This Insanity Belongs in Science Fiction': At Davos, UN Chief Rips Fossil Fuel Expansion. [Internet]. [Accessed 2023-03-27T05:07:09+00:00]. Available from: https://radiofree.asia/2023/01/18/this-insanity-belongs-in-science-fiction-at-davos-un-chief-rips-fossil-fuel-expansion/
CHICAGO
" » 'This Insanity Belongs in Science Fiction': At Davos, UN Chief Rips Fossil Fuel Expansion." Jake Johnson | radiofree.asia - Accessed 2023-03-27T05:07:09+00:00. https://radiofree.asia/2023/01/18/this-insanity-belongs-in-science-fiction-at-davos-un-chief-rips-fossil-fuel-expansion/
IEEE
" » 'This Insanity Belongs in Science Fiction': At Davos, UN Chief Rips Fossil Fuel Expansion." Jake Johnson | radiofree.asia [Online]. Available: https://radiofree.asia/2023/01/18/this-insanity-belongs-in-science-fiction-at-davos-un-chief-rips-fossil-fuel-expansion/. [Accessed: 2023-03-27T05:07:09+00:00]
rf:citation
» 'This Insanity Belongs in Science Fiction': At Davos, UN Chief Rips Fossil Fuel Expansion | Jake Johnson | radiofree.asia | https://radiofree.asia/2023/01/18/this-insanity-belongs-in-science-fiction-at-davos-un-chief-rips-fossil-fuel-expansion/ | 2023-03-27T05:07:09+00:00