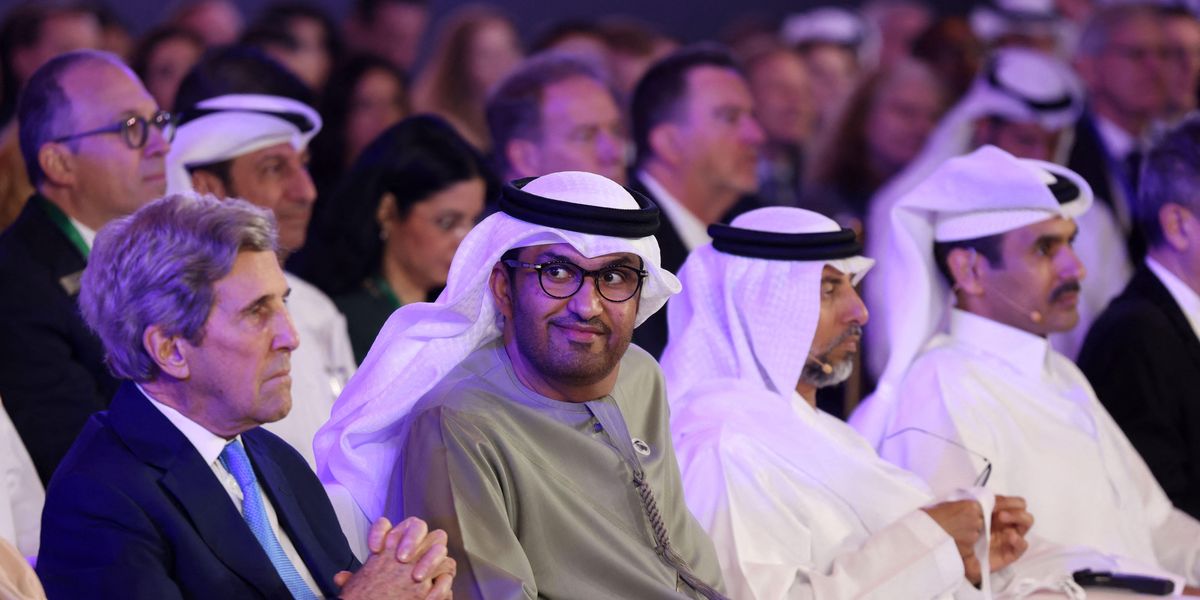 A global network of more than 450 climate justice organizations said Thursday that the upcoming COP28 talks in United Arab Emirates will—like the United Nations climate conferences before it—end in failure as long as the fossil fuel industry is allowed to influence and dictate the terms of the event.
The Kick Big Polluters Out network raised particular concern over the UAE's recent appointment of Sultan Al Jaber, head of the country's state-owned Abu Dhabi National Oil Company (ADNOC), to preside over the end-of-year talks—a decision that climate campaigners said throws the integrity and seriousness of COP28 into further question.

"There is no honor in appointing a fossil fuel executive who profits immensely off of fueling the climate crisis to oversee the global response to climate change," the network wrote in a letter to U.N. Secretary-General António Guterres, U.N. Framework Convention on Climate Change (UNFCCC) executive secretary Simon Stiell, and all parties to the UNFCCC.
"That such a move could ever be seen to be legitimate amidst an intensifying climate crisis where millions of lives and ecosystems are on the line exemplifies just how insidious Big Polluters' stranglehold over climate policy is," continued the letter, which was spearheaded by four UNFCCC constituencies representing millions of people. "No COP overseen by a fossil fuel executive can be seen as legitimate. COP presidencies must be free and independent of fossil fuel influence. It's time for the UNFCCC to deliver the long overdue equitable phaseout of fossil fuels."
The letter comes days after Politico reported that the U.N. is "querying the presidency of this year's COP28 climate talks over its ties" to ADNOC, the 12th-largest oil company in the world by production.
"The main COP28 team is using two stories of an 11-floor office building in Abu Dhabi also used by the Ministry of Industry and Advanced Technology located next to ADNOC's headquarters," Politico noted. "That prompted the secretariat of the United Nations Framework Convention on Climate Change to send a series of questions to the presidency of the climate talks enquiring about whether the presidency will be independent of the oil company."
According to the outlet, which cited an unnamed source with knowledge of the matter, the questions raised by the U.N. "include whether there is a firewall between the two institutions; whether ADNOC has access to COP28 meetings and strategic documents; if the staff working on the climate conference are relying on the oil giant's IT systems; if part of the work will be devoted to protecting ADNOC's interests; and whether the climate team is being paid by the oil company."
"Polluters have a role to play: Stop polluting. They cannot be placed on a leadership pedestal."
Rejecting pressure to rescind his appointment, the UAE has said Al Jaber will stay on as head of ADNOC as he presides over COP28, a striking conflict of interest given the oil giant's financial interest in limiting the scope of climate action.
John Kerry, the United States' special presidential envoy for climate, praised the selection of Al Jaber to oversee COP28, calling the oil company executive a "terrific environmentalist."
The UAE, one of the world's biggest oil producers, has ratified the Paris climate accord, but experts say its policies are way out of alignment with the agreement's critical 1.5°C warming limit.

Cansın Leylim Ilgaz, associate director of global campaigns at 350.org, said Thursday that "letting petrostates host the U.N. climate talks is bad enough, but appointing a petrol company executive as president of COP28 is an effrontery several orders of magnitude beyond anything that happened before in the history of the U.N. climate process."
"Attempts to sugarcoat this scandalous decision only serve to undermine the huge efforts of everyone working to limit global heating," Ilgaz added. "This brazen attempt of the dying fossil fuel industry to predetermine the outcome of COP28 will not stand."
But the Kick Big Polluters Out network stressed in its letter that the problem of fossil fuel influence on U.N. climate talks runs much deeper than Al Jaber.
"Fossil fuel interests overrun the UNFCCC and threaten its credibility," the network wrote. "At COP27 last November, more than 630 fossil fuel lobbyists registered to attend the climate negotiations. The UAE, now hosting COP28, had more fossil fuel lobbyists on its delegation than any other country. The grim reality is that this appointment represents a tipping point in which the UNFCCC is rapidly losing any legitimacy and credibility."
To succeed at delivering "the needed climate equity and action to end the era of fossil fuels, and to rapidly and justly transition to a new global system," the network said the UNFCCC must agree to four demands:
1. Big Polluters cannot write the rules. Big Polluters must not be allowed to unduly influence climate policymaking. This allows them to continue to weaken and undermine the global response to climate change, and it's why we are on the brink of extinction. The UNFCCC must urgently establish an Accountability Framework, including a regime-wide conflict-of-interest policy, that systematically ends this corporate capture.
2. No more Big Polluters bankrolling climate action. No Big Polluter partnership or sponsorships of climate talks or climate action. Not now. Not ever. Major polluters must not be allowed to greenwash themselves and literally buy their way out of culpability for a crisis they have caused. The UNFCCC will always fail to deliver so long as this is deemed acceptable.
3. Polluters out and People in. While civil society has always participated in the COP process, governments have made it more difficult each time for non-governmental organizations and climate justice movements to have their voices heard. We need
equitable, meaningful inclusion of civil society. Climate action must center the leadership and lived experience of the people, especially those on the frontlines of the climate crisis. With frontline communities in the lead, we must end the funding and validation of dangerous distractions and false solutions that promote Big Polluters' profits, enable their abuses, and guarantee decades more of fossil fuel use.
4. Reset the system to protect people and the planet, not Big Polluters. Big Polluters are destroying life as we know it. It's time to build a new way of living and collaborating that works for people, not polluters, and that restores, rather than destroys, nature. We
need real, just, accountable, gender-responsive, community-led, nature-restoring, and proven and transformative solutions to be implemented rapidly and justly. We need a total and equitable transition off of fossil fuels. We need real solutions that center the rights of Indigenous peoples, local communities, women, workers, and the protection of those speaking up for justice. We need an end to the impunity of corporate abuses
"Polluters have a role to play: Stop polluting," said Gadir Lavadenz of the global campaign to Demand Climate Justice. "They cannot be placed on a leadership pedestal and certainly not in a position to undermine and weaken policy. That is basically nonsense. The UNFCCC is not only reluctant to accept a straightforward conflict of interest policy, but it is undermining its already weak international trust year after year."
This post was originally published on Common Dreams.
Print
Share
Comment
Cite
Upload
Translate
Updates
APA
Jake Johnson | radiofree.asia (2023-03-22T19:35:45+00:00) » 450+ Climate Groups to UN: 'No COP Overseen by a Fossil Fuel Executive' Can Be Legitimate. Retrieved from https://radiofree.asia/2023/01/26/450-climate-groups-to-un-no-cop-overseen-by-a-fossil-fuel-executive-can-be-legitimate/.
MLA
" » 450+ Climate Groups to UN: 'No COP Overseen by a Fossil Fuel Executive' Can Be Legitimate." Jake Johnson | radiofree.asia - Thursday January 26, 2023, https://radiofree.asia/2023/01/26/450-climate-groups-to-un-no-cop-overseen-by-a-fossil-fuel-executive-can-be-legitimate/
HARVARD
Jake Johnson | radiofree.asia Thursday January 26, 2023 » 450+ Climate Groups to UN: 'No COP Overseen by a Fossil Fuel Executive' Can Be Legitimate., viewed 2023-03-22T19:35:45+00:00,<https://radiofree.asia/2023/01/26/450-climate-groups-to-un-no-cop-overseen-by-a-fossil-fuel-executive-can-be-legitimate/>
VANCOUVER
Jake Johnson | radiofree.asia - » 450+ Climate Groups to UN: 'No COP Overseen by a Fossil Fuel Executive' Can Be Legitimate. [Internet]. [Accessed 2023-03-22T19:35:45+00:00]. Available from: https://radiofree.asia/2023/01/26/450-climate-groups-to-un-no-cop-overseen-by-a-fossil-fuel-executive-can-be-legitimate/
CHICAGO
" » 450+ Climate Groups to UN: 'No COP Overseen by a Fossil Fuel Executive' Can Be Legitimate." Jake Johnson | radiofree.asia - Accessed 2023-03-22T19:35:45+00:00. https://radiofree.asia/2023/01/26/450-climate-groups-to-un-no-cop-overseen-by-a-fossil-fuel-executive-can-be-legitimate/
IEEE
" » 450+ Climate Groups to UN: 'No COP Overseen by a Fossil Fuel Executive' Can Be Legitimate." Jake Johnson | radiofree.asia [Online]. Available: https://radiofree.asia/2023/01/26/450-climate-groups-to-un-no-cop-overseen-by-a-fossil-fuel-executive-can-be-legitimate/. [Accessed: 2023-03-22T19:35:45+00:00]
rf:citation
» 450+ Climate Groups to UN: 'No COP Overseen by a Fossil Fuel Executive' Can Be Legitimate | Jake Johnson | radiofree.asia | https://radiofree.asia/2023/01/26/450-climate-groups-to-un-no-cop-overseen-by-a-fossil-fuel-executive-can-be-legitimate/ | 2023-03-22T19:35:45+00:00