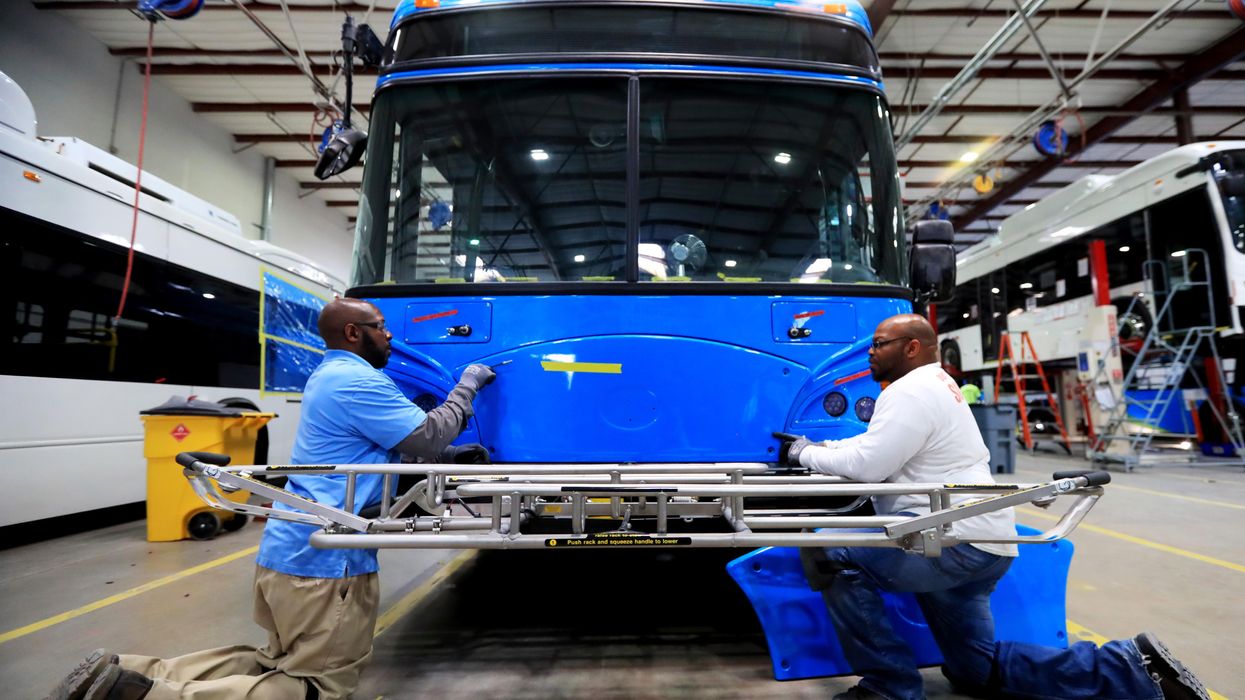 A pair of reports published Thursday show that many workers employed in the U.S. military-industrial complex support shifting manufacturing resources from military to civilian use—a conversion seen as vital to the fight against the climate emergency.
Moving "from a war economy to a green economy" can help avert the worst consequences of the climate crisis, noted the Costs of War project at Brown University's Watson Institute, publisher of the new research.
"Ever-higher military spending is contributing to climate catastrophe, and U.S. lawmakers need a better understanding of alternative economic choices," Stephanie Savell, co-director of Costs of War, said in a statement. "Military industrial production can be redirected to civilian technologies that contribute to societal well-being and provide green jobs. This conversion can both decarbonize the economy and create prosperity in districts across the nation."
In one of the papers released Thursday, Miriam Pemberton, an associate fellow at the Institute for Policy Studies, described "how the United States developed a war economy," as reflected in its massive $858 billion military budget, which accounts for roughly half of all federal discretionary spending.
As Pemberton explained:
When the U.S. military budget decreased after the Cold War, military contractors initiated a strategy to protect their profits by more widely connecting jobs to military spending. They did this by spreading their subcontracting chains across the United States and creating an entrenched war economy. Perhaps the most infamous example: Lockheed Martin's F-35 fighter jet, which is built in 45 states.

The strategy proved successful. Today, many members of Congress have political incentives to continue to raise the military budget, in order to protect jobs in their districts. Much of the U.S. industrial base is invested in and focused on weapons production, and industry lobbyists won't let Congress forget it.

Not only is the Pentagon a major contributor to planet-heating pollution—emitting more greenhouse gases than 140 countries—and other forms of environmental destruction, but a 2019 Costs of War study showed that "dollar for dollar, military spending creates far fewer jobs than spending on other sectors like education, healthcare, and mass transit," Pemberton continued.
Moreover, "military spending creates jobs that bring wealth to some people and businesses, but do not alleviate poverty or result in widely-shared prosperity," Pemberton wrote. "In fact, of the 20 states with economies most dependent on military manufacturing, 14 experience poverty at similar or higher rates than the national average."
"A different way is possible," she stressed, pointing to a pair of military conversion case studies.
"The only way to really lower emissions of the military is you've got to make the military smaller."
As military budgets were shrinking in 1993, Lockheed was eager to expand its reach into non-military production.
"One of its teams working on fighter jets at a manufacturing facility in Binghamton, New York successfully shifted its specialized skills to produce a system for transit buses that cut fuel consumption, carbon emissions, maintenance costs, and noise, called 'HybriDrive,'" Pemberton explained.
By 1999, Lockheed "sold the facility producing HybriDrive buses and largely abandoned its efforts to convert away from dependence on military spending," she wrote. "But under the new management of BAE Systems, the hybrid buses and their new zero-emission models are now reducing emissions" in cities around the world.
According to Pemberton, "This conversion project succeeded where others have failed largely because its engineers took seriously the differences between military and civilian manufacturing and business practices, and adapted their production accordingly."
In another paper released Thursday, Karen Bell, a senior lecturer in sustainable development at the University of Glasgow, sought to foreground "the views of defense sector workers themselves," noting that they "have been largely absent, despite their importance for understanding the feasibility of conversion."
Bell surveyed 58 people currently and formerly employed in military-related jobs in the U.S. and the United Kingdom and found that "while some workers said that the defense sector is 'socially useful,' many were frustrated with their field and would welcome working in the green economy."
"This was a small group so we cannot generalize to defense workers overall," writes Bell. "However, even among this small cohort, some were interested in converting their work to civil production and would be interested in taking up 'green jobs.'"
One respondent told Bell: "Just greenwashing isn't going to do it. Just putting solar panels up isn't going to do it. So we're trying to stress that the only way to really lower emissions of the military is you've got to make the military smaller."
"By the way, do we really need to update all our ICBMs [Inter-Continental Ballistic Missiles]?" the survey participant asked. "Don't we have enough to blow up the world three times over, or five times over? Why don't we take those resources and use them someplace else where they really should be?"
This post was originally published on Common Dreams.
Print
Share
Comment
Cite
Upload
Translate
Updates
APA
Kenny Stancil | radiofree.asia (2023-03-27T04:36:14+00:00) » New Research Details Promise of Converting From 'War Economy to a Green Economy'. Retrieved from https://radiofree.asia/2023/01/26/new-research-details-promise-of-converting-from-war-economy-to-a-green-economy/.
MLA
" » New Research Details Promise of Converting From 'War Economy to a Green Economy'." Kenny Stancil | radiofree.asia - Thursday January 26, 2023, https://radiofree.asia/2023/01/26/new-research-details-promise-of-converting-from-war-economy-to-a-green-economy/
HARVARD
Kenny Stancil | radiofree.asia Thursday January 26, 2023 » New Research Details Promise of Converting From 'War Economy to a Green Economy'., viewed 2023-03-27T04:36:14+00:00,<https://radiofree.asia/2023/01/26/new-research-details-promise-of-converting-from-war-economy-to-a-green-economy/>
VANCOUVER
Kenny Stancil | radiofree.asia - » New Research Details Promise of Converting From 'War Economy to a Green Economy'. [Internet]. [Accessed 2023-03-27T04:36:14+00:00]. Available from: https://radiofree.asia/2023/01/26/new-research-details-promise-of-converting-from-war-economy-to-a-green-economy/
CHICAGO
" » New Research Details Promise of Converting From 'War Economy to a Green Economy'." Kenny Stancil | radiofree.asia - Accessed 2023-03-27T04:36:14+00:00. https://radiofree.asia/2023/01/26/new-research-details-promise-of-converting-from-war-economy-to-a-green-economy/
IEEE
" » New Research Details Promise of Converting From 'War Economy to a Green Economy'." Kenny Stancil | radiofree.asia [Online]. Available: https://radiofree.asia/2023/01/26/new-research-details-promise-of-converting-from-war-economy-to-a-green-economy/. [Accessed: 2023-03-27T04:36:14+00:00]
rf:citation
» New Research Details Promise of Converting From 'War Economy to a Green Economy' | Kenny Stancil | radiofree.asia | https://radiofree.asia/2023/01/26/new-research-details-promise-of-converting-from-war-economy-to-a-green-economy/ | 2023-03-27T04:36:14+00:00