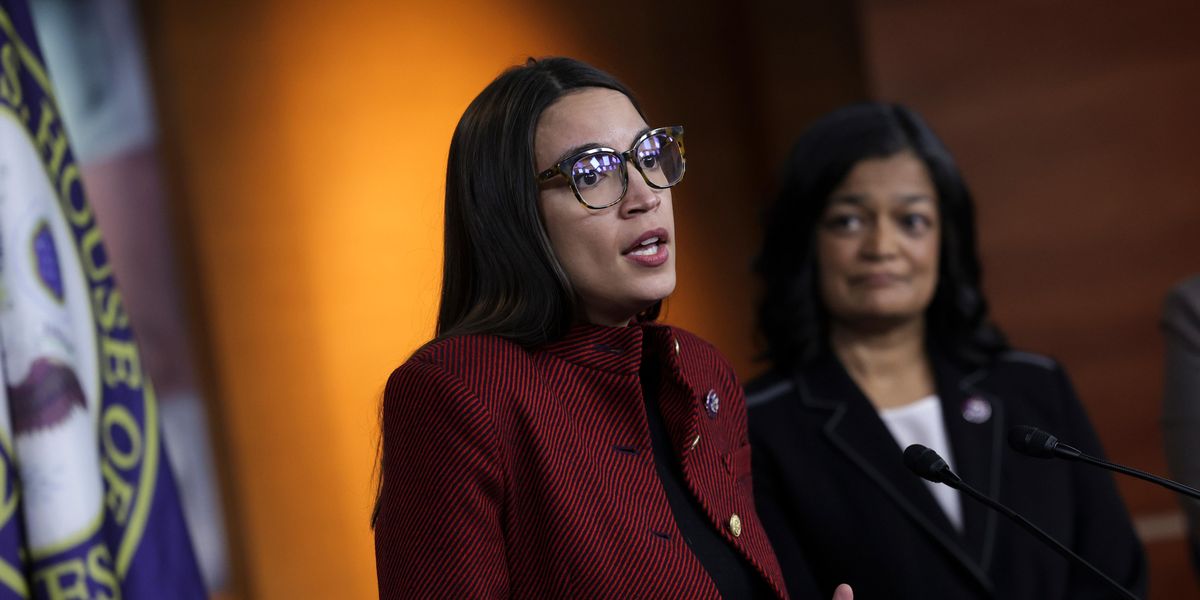 Arguing that the Biden administration's expansion of the Trump-era Title 42 anti-asylum policy is not only immoral but also illegal, U.S. Rep. Alexandria Ocasio-Cortez is leading nearly 80 of her fellow Democratic lawmakers in calling on President Joe Biden to instead keep his earlier promise to end the policy that's expelled more than 2.5 million migrants since 2020.
The New York Democrat joined Sens. Robert Menendez (D-N.J.) in spearheading a letter signed by a bicameral coalition of lawmakers to "applaud the creation of new legal pathways for Cubans, Haitians, and Nicaraguans" that the Biden administration announced earlier this month, while expressing "great concern" over the restrictions that were paired with those pathways.
"Last year, we welcomed your administration's announcement that it would move to end Title 42, and we continue to support your efforts in the courts to ensure a timely end to the policy," wrote the lawmakers in the Thursday letter. "We are therefore distressed by the deeply inconsistent choice to expand restrictions on asylum-seekers after your administration determined it was no longer necessary for public health. Title 42 circumvents domestic law and international law."
"We urge the Biden administration to engage quickly and meaningfully with members of Congress to find ways to adequately address migration to our southern border that do not include violating asylum law and our international obligations."
The letter was sent three weeks after the administration announced that under Title 42—which was first used by former Republican President Donald Trump to refuse entry into the U.S. to migrants at the southern border during the Covid-19 pandemic, with Trump claiming the policy was needed to protect public health—30,000 migrants from Nicaragua, Cuba, and Haiti will be able to enter the country legally each month through a humanitarian parole program and U.S.-based financial sponsors.
If people from those countries try to enter the U.S. without going through an official port of entry, they will face immediate expulsion to Mexico, with the Mexican government committing to accept 30,000 deported refugees per month.
At a press conference outside the U.S. Capitol on Thursday, Ocasio-Cortez said by expanding the Title 42 program, Biden is violating human rights that are "enshrined in domestic and international law."
"We have sought and aspired to be an example, to uphold international law," said the congresswoman. "Instead the administration is making it effectively impossible to seek refuge at our border."
\u201cGreat to see @AOC highlight that Title 42 isn\u2019t just amoral, it\u2019s illegal.\n\n\u201cLast year Pres Biden promised to end Title 42. Instead he's now expanding restrictions on asylum. But the right to seek asylum is enshrined in domestic and international law.\u201d\u201d

— Sawyer Hackett (@Sawyer Hackett)
1674781507
The lawmakers also raised alarm about a rulemaking process the Biden administration said it would begin to require migrants to first apply for asylum in a third "transit country" instead of exercising their legal right to asylum at the U.S.-Mexico border.
The 9th Circuit Court of Appeals found that Trump's "third country transit ban" violated U.S. asylum laws which prohibit the government from turning people away if they are not "firmly resettled" in another country where they are safe.
"At the time of this ruling, countries across the Western Hemisphere were unable to meet such requirements," wrote the lawmakers. "There does not appear to be evidence to show that country conditions in transit countries have improved since the relevant appellate decision was rendered as to justify a new third country transit [ban]."
Title 42 was also struck down by a district court in November, but the U.S. Supreme Court allowed the policy to continue for the time being last month. The court is set to hear arguments on the case in February.
The Democrats called on the president to work closely with Congress, which passed the Refugee Act of 1980 and affirmed that people fleeing persecution on "account of race, religion, nationality, membership in a particular social group, or political opinion" are legally permitted to seek asylum in the United States.
"We urge the Biden administration to engage quickly and meaningfully with members of Congress to find ways to adequately address migration to our southern border that do not include violating asylum law and our international obligations," said the lawmakers. "When Congress established the right to asylum, it did so without such requirements on where people may have previously traveled through or other pathways available. It is, in fact, necessary that asylum must be maintained and strengthened to ensure that safety is within reach, particularly for the most vulnerable."
Print
Share
Comment
Cite
Upload
Translate
Updates
APA
Julia Conley | radiofree.asia (2023-03-27T04:11:40+00:00) » AOC Leads Nearly 80 Democrats Urging Biden to Drop Proposed Title 42 Expansion. Retrieved from https://radiofree.asia/2023/01/27/aoc-leads-nearly-80-democrats-urging-biden-to-drop-proposed-title-42-expansion/.
MLA
" » AOC Leads Nearly 80 Democrats Urging Biden to Drop Proposed Title 42 Expansion." Julia Conley | radiofree.asia - Friday January 27, 2023, https://radiofree.asia/2023/01/27/aoc-leads-nearly-80-democrats-urging-biden-to-drop-proposed-title-42-expansion/
HARVARD
Julia Conley | radiofree.asia Friday January 27, 2023 » AOC Leads Nearly 80 Democrats Urging Biden to Drop Proposed Title 42 Expansion., viewed 2023-03-27T04:11:40+00:00,<https://radiofree.asia/2023/01/27/aoc-leads-nearly-80-democrats-urging-biden-to-drop-proposed-title-42-expansion/>
VANCOUVER
Julia Conley | radiofree.asia - » AOC Leads Nearly 80 Democrats Urging Biden to Drop Proposed Title 42 Expansion. [Internet]. [Accessed 2023-03-27T04:11:40+00:00]. Available from: https://radiofree.asia/2023/01/27/aoc-leads-nearly-80-democrats-urging-biden-to-drop-proposed-title-42-expansion/
CHICAGO
" » AOC Leads Nearly 80 Democrats Urging Biden to Drop Proposed Title 42 Expansion." Julia Conley | radiofree.asia - Accessed 2023-03-27T04:11:40+00:00. https://radiofree.asia/2023/01/27/aoc-leads-nearly-80-democrats-urging-biden-to-drop-proposed-title-42-expansion/
IEEE
" » AOC Leads Nearly 80 Democrats Urging Biden to Drop Proposed Title 42 Expansion." Julia Conley | radiofree.asia [Online]. Available: https://radiofree.asia/2023/01/27/aoc-leads-nearly-80-democrats-urging-biden-to-drop-proposed-title-42-expansion/. [Accessed: 2023-03-27T04:11:40+00:00]
rf:citation
» AOC Leads Nearly 80 Democrats Urging Biden to Drop Proposed Title 42 Expansion | Julia Conley | radiofree.asia | https://radiofree.asia/2023/01/27/aoc-leads-nearly-80-democrats-urging-biden-to-drop-proposed-title-42-expansion/ | 2023-03-27T04:11:40+00:00