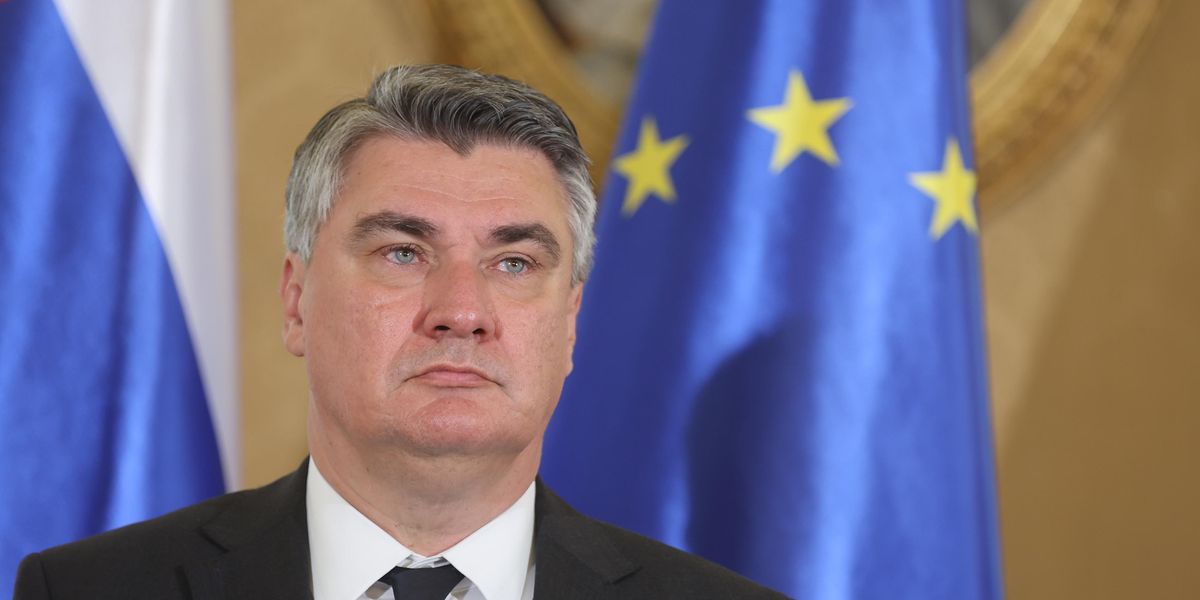 Croatian President Zoran Milanovic became the latest critic to condemn the decision of Western countries, including the United States, to send dozens of tanks to Ukraine to help fight the war against Russia, warning that continued military escalation will not help bring the conflict to an end.
"I am against sending any lethal arms there," Milanovic said at a press conference. "It prolongs the war."
The Biden administration last week announced that it will send more than 30 Abrams battle tanks to Ukraine, while German officials confirmed they will supply Ukrainian soldiers with 14 Leopard 2 tanks. Poland, Spain, the Netherlands, Finland, Denmark, and the United Kingdom have already dispatched tanks to the country, which was invaded nearly a year ago by Russian forces.
Conservative British Prime Minister Rishi Sunak said last week that the continued military support for Ukraine will "ensure Ukraine wins this war and secures a lasting peace," but peace advocates have long said that countries including the U.S. must prioritize promoting diplomacy between Ukraine and Russia.
"What is the goal of this war? A war against a nuclear power that is at war in another country? Is there a conventional way to defeat such a country?"
The Stop the War Coalition in the U.K. announced an upcoming demonstration last week following the announcement by the U.S. and Germany, saying, "Arming Ukraine and sending tanks is a step further away from negotiation."
In October, progressives in the U.S. House said in a letter to Biden that "the alternative to diplomacy is protracted war" before distancing themselves from the statement under pressure. The White House has resisted calls to aggressively push for peaceful negotiations even from Joint Chiefs of Staff chairman Gen. Mark Milley.

Milanovic's most recent comments follow his accusation earlier this month that the U.S. and the North Atlantic Treaty Organization NATO) are fighting a "proxy war against Russia through Ukraine."

"What is the goal of this war?" Milanovic asked on Monday. "A war against a nuclear power that is at war in another country? Is there a conventional way to defeat such a country?"
He also predicted that European countries will "pay the price" for becoming militarily involved in the way and that Europe will ultimately pour more resources into the effort to end the war through military might.
"America pays the least," he said. "Not a single American tank will go to Ukraine in a year. Only German tanks will be sent there."
Last week, he expressed hope in a television interview that negotiations between Ukraine and Russia are ongoing.
"Supplies of Western tanks to Ukraine will extend the war. If America and Russia don't agree, and that's not in sight so far, the war won't be over," he told N1. "I hope that some talks are going on, otherwise we are inching toward the Third World War."
This post was originally published on Common Dreams.
Print
Share
Comment
Cite
Upload
Translate
Updates
APA
Julia Conley | radiofree.asia (2023-03-27T04:44:10+00:00) » Croatian President Warns Sending NATO Tanks to Ukraine Only 'Prolongs the War'. Retrieved from https://radiofree.asia/2023/01/30/croatian-president-warns-sending-nato-tanks-to-ukraine-only-prolongs-the-war/.
MLA
" » Croatian President Warns Sending NATO Tanks to Ukraine Only 'Prolongs the War'." Julia Conley | radiofree.asia - Monday January 30, 2023, https://radiofree.asia/2023/01/30/croatian-president-warns-sending-nato-tanks-to-ukraine-only-prolongs-the-war/
HARVARD
Julia Conley | radiofree.asia Monday January 30, 2023 » Croatian President Warns Sending NATO Tanks to Ukraine Only 'Prolongs the War'., viewed 2023-03-27T04:44:10+00:00,<https://radiofree.asia/2023/01/30/croatian-president-warns-sending-nato-tanks-to-ukraine-only-prolongs-the-war/>
VANCOUVER
Julia Conley | radiofree.asia - » Croatian President Warns Sending NATO Tanks to Ukraine Only 'Prolongs the War'. [Internet]. [Accessed 2023-03-27T04:44:10+00:00]. Available from: https://radiofree.asia/2023/01/30/croatian-president-warns-sending-nato-tanks-to-ukraine-only-prolongs-the-war/
CHICAGO
" » Croatian President Warns Sending NATO Tanks to Ukraine Only 'Prolongs the War'." Julia Conley | radiofree.asia - Accessed 2023-03-27T04:44:10+00:00. https://radiofree.asia/2023/01/30/croatian-president-warns-sending-nato-tanks-to-ukraine-only-prolongs-the-war/
IEEE
" » Croatian President Warns Sending NATO Tanks to Ukraine Only 'Prolongs the War'." Julia Conley | radiofree.asia [Online]. Available: https://radiofree.asia/2023/01/30/croatian-president-warns-sending-nato-tanks-to-ukraine-only-prolongs-the-war/. [Accessed: 2023-03-27T04:44:10+00:00]
rf:citation
» Croatian President Warns Sending NATO Tanks to Ukraine Only 'Prolongs the War' | Julia Conley | radiofree.asia | https://radiofree.asia/2023/01/30/croatian-president-warns-sending-nato-tanks-to-ukraine-only-prolongs-the-war/ | 2023-03-27T04:44:10+00:00