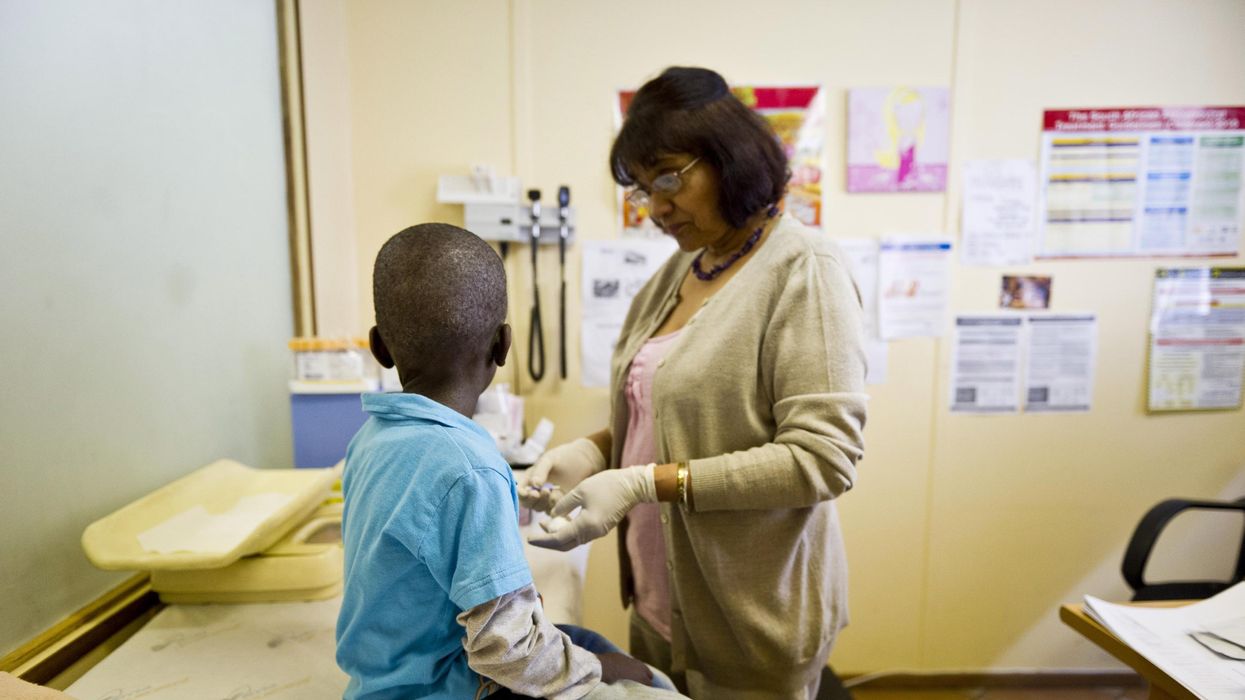 Declaring the fight against HIV and AIDS infections in children "winnable," public health officials from across Africa on Wednesday convened in Dar es Salaam, United Republic of Tanzania to discuss the steps needed from policymakers and the healthcare sector to eradicate pediatric cases by 2030.
Representatives from 12 countries including Tanzania, Zimbabwe, Cote D'Ivoire, and Cameroon were joined by the U.S. President's Emergency Plan for AIDS Relief (PEPFAR), UNICEF, and other global organizations at the first ministerial meeting of the Global Alliance to End AIDS in Children.
The alliance was formed last summer, as the United Nations noted that just 52% of children living with AIDS are on lifesaving treatment and warned progress for preventing pediatric cases is stalling. Among adults patients, 76% are receiving antiretroviral treatments.
The delegates unanimously agreed on Wednesday to the Dar es Salaam Declaration for Action. The declaration's commitments include:
Providing access to universal testing and treatment for all children and adolescents living with HIV and support them to remain virally suppressed;
Ensuring access to treatment and care for all pregnant and breastfeeding women and support them to stay in care;
Harnessing digital technologies to reach adolescents and young people;
Implementing comprehensive, integrated HIV services;
Working with and for men, women, and adolescent girls to ensure that mothers are protected from acquiring HIV during pregnancy and breastfeeding;
Ending the stigma, discrimination, and gender inequities experienced by women, children, and adolescents affected by HIV; and
Working with communities including men to prevent gender-based violence and counter harmful gender norms.
"We have the tools, the guidance, the policies, and the knowledge we need. Now we must make good on this commitment and move to action," reads the declaration. "Together we will not fail."
"Closing the gap for children will require laser focus and a steadfast commitment to hold ourselves, governments, and all partners accountable for results."
The global alliance has stressed since its formation last year that ending pediatric AIDS and HIV infections is an achievable goal, noting the progress that has been made in several African countries with high HIV burdens.
"By the end of 2021, 12 countries in sub-Saharan Africa reached the target of 95% ART [antiretroviral therapy] coverage in pregnant women and Botswana was the first high prevalence African country to be validated as being on the path to eliminating vertical transmission of HIV," reads a document released when the initiative was launched.
Sixteen countries worldwide have also been "certified for validation of eliminating vertical transmission of HIV," according to UNAIDS.
\u201cI believe this is a winnable fight\u2014one we can win for all children in Africa. We can win it for their mothers; we can win it for their families; we can win it for our countries. Honourable Ministers make it your priority and you will see results during your tenure!\n#ForEveryChild\u201d

— Winnie Byanyima (@Winnie Byanyima) 1675241033
But still, 160,000 children acquired HIV in 2021 and children accounted for 15% of all AIDS-related deaths that year, despite the fact that they only make up 4% of the total number of people living with HIV. Across the globe, a child dies of AIDS-related causes every five minutes.
"Year on year, the same poor progress has been reported towards global and national targets for children and adolescents," said the alliance last year. "Despite available, affordable, and highly effective tools and programming strategies to diagnose and treat HIV among children, adolescents, and pregnant and breastfeeding women, large service gaps for these populations remain."

By meeting the commitments laid out in the Dar es Salaam Declaration, officials said, they will promote active participation of national programs and affected communities, boost existing programs to end AIDS in children, and mobilize resources through "donor coordination and innovative financing."

"Closing the gap for children will require laser focus and a steadfast commitment to hold ourselves, governments, and all partners accountable for results," said John Nkengasong, the U.S. global AIDS coordinator and leader of PEPFAR. "In partnership with the global alliance, PEPFAR commits to elevate the HIV/AIDS children's agenda to the highest political level within and across countries to mobilize the necessary support needed to address rights, gender equality, and the social and structural barriers that hinder access to prevention and treatment services for children and their families."
Philip Mpango, vice president of the United Republic of Tanzania, said the host country "has showed its political engagement" regarding the issue.

"Now we need to commit moving forward as a collective whole," said Mpango. "All of us in our capacities must have a role to play to end AIDS in children. The global alliance is the right direction, and we must not remain complacent. 2030 is at our doorstep."
This post was originally published on Common Dreams.
Print
Share
Comment
Cite
Upload
Translate
Updates
APA
Julia Conley | radiofree.asia (2023-03-27T05:11:35+00:00) » 'This Is a Winnable Fight': Leaders Across Africa Pledge to End AIDS in Children by 2030. Retrieved from https://radiofree.asia/2023/02/01/this-is-a-winnable-fight-leaders-across-africa-pledge-to-end-aids-in-children-by-2030/.
MLA
" » 'This Is a Winnable Fight': Leaders Across Africa Pledge to End AIDS in Children by 2030." Julia Conley | radiofree.asia - Wednesday February 1, 2023, https://radiofree.asia/2023/02/01/this-is-a-winnable-fight-leaders-across-africa-pledge-to-end-aids-in-children-by-2030/
HARVARD
Julia Conley | radiofree.asia Wednesday February 1, 2023 » 'This Is a Winnable Fight': Leaders Across Africa Pledge to End AIDS in Children by 2030., viewed 2023-03-27T05:11:35+00:00,<https://radiofree.asia/2023/02/01/this-is-a-winnable-fight-leaders-across-africa-pledge-to-end-aids-in-children-by-2030/>
VANCOUVER
Julia Conley | radiofree.asia - » 'This Is a Winnable Fight': Leaders Across Africa Pledge to End AIDS in Children by 2030. [Internet]. [Accessed 2023-03-27T05:11:35+00:00]. Available from: https://radiofree.asia/2023/02/01/this-is-a-winnable-fight-leaders-across-africa-pledge-to-end-aids-in-children-by-2030/
CHICAGO
" » 'This Is a Winnable Fight': Leaders Across Africa Pledge to End AIDS in Children by 2030." Julia Conley | radiofree.asia - Accessed 2023-03-27T05:11:35+00:00. https://radiofree.asia/2023/02/01/this-is-a-winnable-fight-leaders-across-africa-pledge-to-end-aids-in-children-by-2030/
IEEE
" » 'This Is a Winnable Fight': Leaders Across Africa Pledge to End AIDS in Children by 2030." Julia Conley | radiofree.asia [Online]. Available: https://radiofree.asia/2023/02/01/this-is-a-winnable-fight-leaders-across-africa-pledge-to-end-aids-in-children-by-2030/. [Accessed: 2023-03-27T05:11:35+00:00]
rf:citation
» 'This Is a Winnable Fight': Leaders Across Africa Pledge to End AIDS in Children by 2030 | Julia Conley | radiofree.asia | https://radiofree.asia/2023/02/01/this-is-a-winnable-fight-leaders-across-africa-pledge-to-end-aids-in-children-by-2030/ | 2023-03-27T05:11:35+00:00