By Phoebe Gwangilo in Port Moresby
Higher Education Minister Don Polye has condemned a decision by the administration of the University of Papua New Guinea to treat a PNG-born and bred grade 12 school leaver as an "international" student.
Roselyn Alog, 19, whose parents are Filipinos, was born and raised in PNG.
On Monday, she was turned away from registering at the university by the School of Natural and Physical Sciences on the grounds that she is a Filipino by nationality.
She was asked to pay K19,638 (almost NZ$9000) and not K3115 (NZ$1400) as per the acceptance letter from UPNG.
Alog completed her grade 12 last year at the Paradise Private School and was selected through the National Online System to study under the SNPS programme.
"I have considered that those students who have come through PNG's education system, regardless of nationality over the years, have a right to be given the same treatment as everyone else for enrolment," Polye said.
"PNG is a member of the global community and our universities are institutions of learning for all international students who live within or live outside our shores.
Diverse students
"We are happy to see students of diverse nationalities and cultures live and study together as it's part of learning.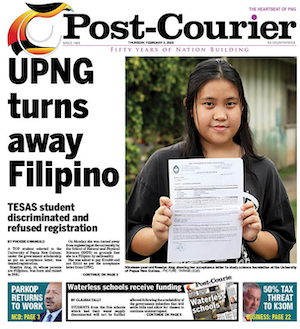 "If a student had been paying school fees through the echelon of our formal education structure at the established school fees structure, then the same student is entitled to pay the same fee asked of through the formal process.
"A student should not be discriminated against. No foreign student will be made to pay more if such a student had been coming up [through] the formal PNG education system.
"Any errors made must be corrected immediately."
Francis Hualupmomi, Secretary for the Department of Higher Education Research Science and Technology (HERST) which manages the TESAS (scholarship scheme), said no university had the right to take away the TESAS privilege awarded to a student.
A call from the scholarship division of the Department of HERST to the Post-Courier asked Roselyn Alog to visit their office to establish her citizenship status.
Phoebe Gwangilo is a PNG Post-Courier journalist. Republished with permission.
Print
Share
Comment
Cite
Upload
Translate
Updates
APA
APR editor | radiofree.asia (2023-03-27T03:33:30+00:00) » PNG's Education Minister slams UPNG 'discrimination' against Filipino student. Retrieved from https://radiofree.asia/2023/02/03/pngs-education-minister-slams-upng-discrimination-against-filipino-student/.
MLA
" » PNG's Education Minister slams UPNG 'discrimination' against Filipino student." APR editor | radiofree.asia - Friday February 3, 2023, https://radiofree.asia/2023/02/03/pngs-education-minister-slams-upng-discrimination-against-filipino-student/
HARVARD
APR editor | radiofree.asia Friday February 3, 2023 » PNG's Education Minister slams UPNG 'discrimination' against Filipino student., viewed 2023-03-27T03:33:30+00:00,<https://radiofree.asia/2023/02/03/pngs-education-minister-slams-upng-discrimination-against-filipino-student/>
VANCOUVER
APR editor | radiofree.asia - » PNG's Education Minister slams UPNG 'discrimination' against Filipino student. [Internet]. [Accessed 2023-03-27T03:33:30+00:00]. Available from: https://radiofree.asia/2023/02/03/pngs-education-minister-slams-upng-discrimination-against-filipino-student/
CHICAGO
" » PNG's Education Minister slams UPNG 'discrimination' against Filipino student." APR editor | radiofree.asia - Accessed 2023-03-27T03:33:30+00:00. https://radiofree.asia/2023/02/03/pngs-education-minister-slams-upng-discrimination-against-filipino-student/
IEEE
" » PNG's Education Minister slams UPNG 'discrimination' against Filipino student." APR editor | radiofree.asia [Online]. Available: https://radiofree.asia/2023/02/03/pngs-education-minister-slams-upng-discrimination-against-filipino-student/. [Accessed: 2023-03-27T03:33:30+00:00]
rf:citation
» PNG's Education Minister slams UPNG 'discrimination' against Filipino student | APR editor | radiofree.asia | https://radiofree.asia/2023/02/03/pngs-education-minister-slams-upng-discrimination-against-filipino-student/ | 2023-03-27T03:33:30+00:00