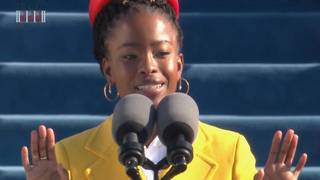 One of the most remarkable moments from Wednesday's inauguration ceremony came from poet Amanda Gorman, the youngest poet in U.S. history to speak at a presidential inauguration. The 22 year-old read "The Hill We Climb," a poem she finished right after the riot at the Capitol earlier this month. We feature her full recitation and get reaction from scholar Cornel West and award-winning journalist Maria Hinojosa.
This post was originally published on Democracy Now!.
Print
Share
Comment
Cite
Upload
Translate
Updates
APA
Democracy Now! | radiofree.asia (2022-06-28T05:36:34+00:00) » "The Hill We Climb": Watch Breathtaking Poem by Amanda Gorman, Youngest Inaugural Poet in U.S. History. Retrieved from https://radiofree.asia/2021/01/21/the-hill-we-climb-watch-breathtaking-poem-by-amanda-gorman-youngest-inaugural-poet-in-u-s-history-2/.
MLA
" » "The Hill We Climb": Watch Breathtaking Poem by Amanda Gorman, Youngest Inaugural Poet in U.S. History." Democracy Now! | radiofree.asia - Thursday January 21, 2021, https://radiofree.asia/2021/01/21/the-hill-we-climb-watch-breathtaking-poem-by-amanda-gorman-youngest-inaugural-poet-in-u-s-history-2/
HARVARD
Democracy Now! | radiofree.asia Thursday January 21, 2021 » "The Hill We Climb": Watch Breathtaking Poem by Amanda Gorman, Youngest Inaugural Poet in U.S. History., viewed 2022-06-28T05:36:34+00:00,<https://radiofree.asia/2021/01/21/the-hill-we-climb-watch-breathtaking-poem-by-amanda-gorman-youngest-inaugural-poet-in-u-s-history-2/>
VANCOUVER
Democracy Now! | radiofree.asia - » "The Hill We Climb": Watch Breathtaking Poem by Amanda Gorman, Youngest Inaugural Poet in U.S. History. [Internet]. [Accessed 2022-06-28T05:36:34+00:00]. Available from: https://radiofree.asia/2021/01/21/the-hill-we-climb-watch-breathtaking-poem-by-amanda-gorman-youngest-inaugural-poet-in-u-s-history-2/
CHICAGO
" » "The Hill We Climb": Watch Breathtaking Poem by Amanda Gorman, Youngest Inaugural Poet in U.S. History." Democracy Now! | radiofree.asia - Accessed 2022-06-28T05:36:34+00:00. https://radiofree.asia/2021/01/21/the-hill-we-climb-watch-breathtaking-poem-by-amanda-gorman-youngest-inaugural-poet-in-u-s-history-2/
IEEE
" » "The Hill We Climb": Watch Breathtaking Poem by Amanda Gorman, Youngest Inaugural Poet in U.S. History." Democracy Now! | radiofree.asia [Online]. Available: https://radiofree.asia/2021/01/21/the-hill-we-climb-watch-breathtaking-poem-by-amanda-gorman-youngest-inaugural-poet-in-u-s-history-2/. [Accessed: 2022-06-28T05:36:34+00:00]
rf:citation
» "The Hill We Climb": Watch Breathtaking Poem by Amanda Gorman, Youngest Inaugural Poet in U.S. History | Democracy Now! | radiofree.asia | https://radiofree.asia/2021/01/21/the-hill-we-climb-watch-breathtaking-poem-by-amanda-gorman-youngest-inaugural-poet-in-u-s-history-2/ | 2022-06-28T05:36:34+00:00