Mae Ngai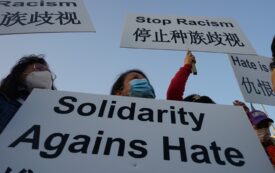 Biden may reject Trump's hateful language, but he is continuing his predecessor's dangerous "tough on China" approach.
The post Vilifying China Puts a Bull's-Eye on the Backs of Asian Americans appeared first on The Nation.
This post was originally published on Article – The Nation.
Print
Share
Comment
Cite
Upload
Translate
Coming soon, a new easy way to cite work. We are working on implementing new features in this area, in the meantime please pardon this section not finctioning properly. We are aware of the issues and working to improve service.
https://github.com/addpipe/simple-recorderjs-demo